Have you ever thought about the difference between culture and tradition – or even wondered whether there is even a difference  between them? They are definitely intertwined and both inform and influence each other – for example, a tradition can grow to be so widespread that it becomes an accepted part of a culture.  But the two concepts are not entirely interchangeable. Culture is the sum of the customary beliefs, social norms, and creative artefacts of a racial, religious, or social group.  It is the sum of the group's shared characteristics, amassed throughout its history and it tends to change or evolve very slowly over time. Tradition, on the other hand, is a narrower concept.  The word itself derives from two Latin words meaning "to hand over" and this is the essence of a tradition – it is a practice or custom handed down from generation to generation within a group of people, usually a family or a community. A tradition may become so widespread as to become a part of that a people's culture, but it can also remain within a single family.
Christmas is a time when cultures and traditions mingle like guests at a pre-Covid-19 cocktail party.  In Christian culture, Christmas is celebrated as the birth of Jesus Christ and there are many customs, practices and celebrations that form part of that tradition.  But there are also a host of pretty universal western secular cultural practices associated with Christmas (the arrival of Father Christmas/Santa Claus/Sinterklaas/St Nicholas/Kerstman/Papa Noël/etc;  putting up Christmas trees; and eating seasonal foods like mince pies, bûche de Noël or pannetone being some of the most obvious). And then there are traditions – some fairly widespread; some fairly niche; and some confined to individual families but carefully handed down through the years. A surprising Christmas tradition that I only heard about last week is the tradition among the American Jewish community to eat Chinese food on Christmas day – a tradition that has been going on for over 100 years! It is thought to have arisen from a combination of the community being unable to celebrate Christmas as a religious event but wanting a secular way to mark the day with family and friends; and the fact that Chinese restaurants were some of the few places open on Christmas day in the Lower East Side of Manhattan where both the Jewish and Chinese communities lived and where the tradition is thought to have originated.
As a child growing up in South Africa, we generally celebrated Christmas in a very northern European way with fake fir trees decorated with a dusting of fake snow; and Father Christmases sweating in the African summer heat in ersatz grottos in every shopping mall. But our family also had its own traditions – our Christmas tree always went up on 16 December and not a day earlier; we were never home on Christmas eve but always went out to dinner at the same restaurant (La Fontaine) and then drove down to the beachfront to look at the Christmas lights. On Christmas morning when we woke up there was always a stocking (OK, a pillowcase!) of gifts for me and my brother that we were only allowed to take through to our parents' room at 08h00 (no earlier!).  Then we had to wait impatiently until we had all had breakfast (tea and mince pies) and only then were we allowed to hand out the presents under the tree. Lunch was always served cold, and the centrepiece was always a glazed gammon, usually with smoked salmon terrines as a starter. Other friends had similar traditions – a friend of mine's family had a family circuit that they did every Christmas, with Christmas eve dinner at one relative's house; Christmas breakfast at another's and Christmas day lunch at a third – like an elaborate 24 hour travelling family supper!
But when you emigrate to a country where you have no family, and especially if you don't have children of your own, these traditions soon dissipate.  For me, Christmas stopped feeling like Christmas when my mom passed away and a lot of out traditions ended very abruptly. And even after 20 years in the UK (not for lack of trying!) I don't seem to have been able to settle into new Christmas traditions.  I have managed to keep alive my tradition of sending hard copy Christmas cards alive for decades, but I have often thought it would be nice to have some more Christmas traditions of my own. My friend Bronwyn (she of the travelling family Christmas dinner) has also recently migrated to the UK and she and I were recently talking about how to create new traditions.  I think the main takeaway from the discussion was "just start" (!) but I loved the way she is going about it.  She, her husband and son all wrote down the three things they want to do at Christmas and all three of them have agreed to try all nine, whether they think they will like them or not.  They range from a day of only Christmas music, to a Christmas pyjama day, to Peppermint Crisp Tart for dessert – but the idea is that in those 9 activities, there will be a couple that everyone enjoys so much that will be repeated till they become a tradition. I love the concept!  What three things would you put on your Christmas tradition wish list?  I would love you to tell me in the comments.
One Christmas tradition I have never been remotely interested in is a turkey dinner. Yes, I know – sacrilege in this country! Christmas gammon is tradition that I have carried with me to the UK, but fired up by the idea of new beginnings and new traditions, I have been experimenting with a sticky pomegranate glazed roast lamb as an alternative Christmas dinner. It has some traditional pedigree as pomegranates are already associated with Christmas: in Greece, a pomegranate is hung above the front door on Christmas day and smashed on the doorstep at new year to bring prosperity.  Far more delicious is using your pomegranate juice and arils to glaze and decorate a slow-roast shoulder of lamb as I do here.  The recipe is an amalgamation of these two from Delicious (Australia) and BBC Good Food, and although the results look impressively cheffy, it is super simple to make.  I served mine with all the trimmings (sweet potato mash; Brussels sprouts with hazelnuts & chorizo; and braised red cabbage with apples) and a fresh salad of aromatic herbs with more pomegranate arils; but if you wanted to give it a Mediterranean slant you could also serve it with herby yoghurt and jewelled couscous. It might just be the start of a wonderful new Christmas tradition!
Looking for some Christmas dinner inspiration? Try my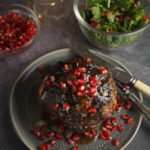 Roast lamb with pomegranate glaze
This sticky pomegranate glaze roast lamb takes minimal preparation to produce the perfect festive meal and a great alternative to turkey for Christmas dinner!
Keyword:
Christmas, glutenfree, lamb, low-carb, roast
Ingredients
4

cloves

garlic

finely chopped

2

tsp

ground cinnamon

2

tsp

ground cumin

1

tsp

salt

2

tsp

ground black pepper

2 + 2

Tbsp

pomegranate molasses

1

Tbsp

water

1.5

kg

boneless lamb shoulder

2

onions

cut into chunks

1

litre

pomegranate juice

100

g

pomegranate arils
Instructions
Place the lamb in an oven-proof roasting dish. Using a small sharp knife, score the fat of the lamb in a diamond pattern to help the glaze stick to it. Rub the chopped garlic into the meat and fat.

Mix the cumin, cinnamon, salt and pepper well and use it to season the meat, then mix 2 Tbsp of the pomegranate molasses and water and pour over the meat. Cover with foil and refrigerate for 24 hours.

Remove the meat from the fridge 1 hour before cooking. Pre-heat the oven to 160C (150C with fan). Chop the onions and scatter in the base of the roasting dish with the lamb, tucking some under the meat as well. Pour over the pomegranate juice.

Cover the meat tightly with foil and roast for 3 hours, then remove the foil and carefully pour the meaty pomegranate juices from the tin into a large saucepan and add the other 2 Tbsp pomegranate molasses. Increase oven to 220C (200C fan), cover the lamb with foil again and continue cooking for 30 mins while you reduce the glaze.

Add the other 2 Tbsp of pomegranate molasses to the cooking juices in the saucepan and boil over high heat until the liquid reduces and starts to get sryupy, which could take up to 30 minutes.

Remove the lamb from the oven and remove the foil. Pour the syrupy pomegranate glaze over the lamb and onions and return to the oven for another 30 mins, uncovered, until the glaze is bubbling and just starting to char.

Sprinkle 2/3 of the pomegranate arils over the cooked meat and serve with a herby side salad of mint, flat leaf parsley, watercress and the rest of the pomegranate arils.
Make sure you never miss a recipe – sign up to receive a free e-mail alert whenever I publish a new post!
Other platforms where you can follow me are Facebook, Instagram, Pinterest, Twitter, Bloglovin and Yummly.

Pin this recipe to your Pinterest board so you can find it later: