Is it me or is it hot in here?  So hot, in fact, that people are whipping off their tops left, right and centre – ooooooeer, Missus!  Yes folks, the formerly demure residents of the foodie blogosphere have all decided to get 'em out and show 'em off.  The saucy tarts!
No really – I do mean tarts!  As in a crust and a filling?  What on earth did  think I meant??
Double entendres aside, the theme for this month's edition of Waiter, there's something in my… really was topless tarts and you responded in droves – 53 entries in total!  The only thing I did notice was the distinct absence of men – don't think we got even 10% male participation.  Don't you boys like tarts or what? :o)
And now, without further ado, ladies and gentlemen, please welcome on stage… the topless tarts!
SAVOURY TARTS
Nic of Cherrapeno in Kent made uses some of my favourite seasonal ingredients to make festive filo tarts.  Not only do the squash, cranberry and nut flavours sound amazing, but just look at the colours!  Little jewelled wonders.
Evelin of Bounteous Bites in Tallinn presents us with astonishingly healthy-sounding onion tart on an oat flake and carrot crust – and as a bonus whe shares the recipe to make it three ways: one big tart; tartelettes; and muffins!
Helen of Beyond Salmon in Boston, MA went way beyond the call of duty.  As luck would have it, she had scheduled a tart baking class just ahead of the deadline for WTSIM, so she and her pupils made four topless tarts!  The savoury ones were a spinach and mushroom quiche and the tomato onion gruyere tart pictured.
Margot of Coffee and Vanilla here in London decides to go topless in the Med!  Well, actually she puts together a topless zucchini tart full of the most wonderful Mediterranean flavours – zucchini, sun-dried tomatoes, olives… need I carry on?!  Too delightful.
Julie at One-Wall Kitchen in Phoenix, AZ tells a woe-filled tale of an oven that stops working at a crucial moment, but still manages to save the day by using her grill when all else fails.  The result is her pear, red onion and Gorgonzola tarte tatin – a racy little number if ever I saw one 🙂
Julie of A Mingling of Tastes in Fort Lauderdale, Florida comes up with a Brussels sprout & chestnut tart – can't see how you could turn down sprouts when the're "tarted up" like this!
Fellow expat-South African blogger Michelle of the Greeedy Gourmet in Southend goes back to our shared roots to make a South African souttert – literally a salt tart, but in fact a creamy leek tart.  Seeing as leeks are at their prime now, this could not be more timely.  And what happy memories of home it brought back for me!
Francesco of The Food Traveller came up with an intriguing mix of cuisines.  He's Italian and she's Belgian, and after a bit of tweaking and culinary cross-pollination, the result is the mouth-watering potato and strachitunt tart.  Cheese.  Potatoes.  What can go wrong?!
Deborah of Play With Food in Newport, VA  tells us about her regular Wednesday tapas party – and this tale of tasty titbits segues perfectly into her topless tart (sorry – couldn't resist that!) It's a stunner with oven-roasted tomatoes and goats cheese.  Simple, classic and delicious.
Arfi of HomeMades in Tuakau, New Zealand tells all about the chickens that they are breeding – this is the true meaning of free range if you ask me.  And of course, if you have chickens, you have eggs.  And if life gives you eggs… make courgette and capsicum quiche!
Courtney of The Pink Rolling Pin in Raymore, Missouri is a WTSIM newbie and comes up with a most unusual-sounding chicken, gruyere and cranberry quiche with a twist of orange.  Could be just the thing for using up all those festive season leftovers!
The lovely Rachel from Yumchia here in London was one of a couple of participants who mentioned that the slightly racy theme of this month's event spurred them on to start blogging again after a hiatus – glad to hear it!  She adapts a Gordon Ramsay recipe and presents us with open mushroom tarts – looks like the perfect starter to me 🙂
Marcela of Pip in the City in Buenos Aires shows us pictures of the veritable forest of broccoli florets that she uses in her amazing-sounding broccoli, rosemary and cheese quiche.  And better still, she uses a light brioche-like crust – what a treat!
Anh of A Food Lover's Journey in Melbourne comes up with one of the most inspired dishes in this months' round-up.  Inspired by a Charlie Trotter recipe for beef tartlets but fearing that the buttery crust might be too heavy, Anh comes up with the great idea of a bulgur crust.  Her chili beef and potato tartlets in a bulgur crust not only sound fantastic – just take a look at how tempting they look!
Dayna of Vegan Visitor in Toronto was rather taken aback when I suggested bloggers go topless this month – and given what I know about Canadian winter temperatures, I'm not surprised!  But she soon loses her inhibitions and presents us with a droolworthy easy caramelised onion and fennel tart.  This one's going on my "to do" list 🙂
Sanja of Fresh Adriatic Fish in Croatia was another one who got really creative with her tart crust.  Instead of conventional pastry, she uses he previously posted recipe for lentil patties and uses this as a crust – inspired.  What does she fill it with? Ragu Bolognese of course, to create her fantastic little Bolognese tarts.  Clever!
Marta of An Italian in the US left me a forlorn comment to alert me to the fact that her topless tarts had been overlooked – a thousand apologies!!  Very glad I discovered them though – look how lovely they are.  The first is an asparagus and goats cheese tart decorated with red bell pepper strips; and the second is a green bean, gorgonzola and cheddar cheese tart.  And look at their irresistible rustic good looks!
Co-founder of this event Andrew puts in his first appearance in the tart-fest with a savoury little number, impressively published on the Guardian Word of Mouth food blog.  His leek and ricotta tart sounds marvellous – and we even get a wine recommendation to go with it!
And rounding out or complement of savoury tarts Johanna of The Passionate Cook drags herself off her sickbed and away from her study books just long enough to pop into the kitchen and whip up a fantastic leek, gruyere and hazelnut quiche.  What a trooper!
SWEET TARTS
June from Thyme for Food in Miami tells a sad tale of woe that could easily have happened in my kitchen.  She dropped the dough (and quickly applied the 2-second rule!!), didn't have a tart pan, forgot to butter the pan and apologises for how bad her tart looks.  Which I can't see because I think the Alsatian apple tart looks amazing.  But just when she thought he luck had changed… I omitted her from the roundup!  D'oh!  Sorry June, all fixed now 🙂
And just when I thought I'd fixed it all, I had another forlorn e-mail from somebody whose entry had been missed in all the IT misery last weekend.  Lisa from I've Got Seoul (unsurprisingly, in Seoul!) shows off her multi-tasking activities in making a dessert for a dinner party that doubles as her WTSIM entry.  Her Aunt Greta's apple tart looks packed with fruit – and delicious!
Eva of Sweet Sins in Sydney tells us a charming story of anniversary celebrations, after which she and her other half almost had no room left for dessert… but then, how can you resist coffee chocolate ganache tarts?  I'll give you a clue:  they didn't!
In his second entry for this month's event, Andrew of SpittoonExtra in Oxfordshire decided to go traditional Brit and made Kentish pudding pie tarts.  I'd never heard of them but the filling is  apparently a creamy rice concoction, so it's kind of like the best bits of a tart and a rice pudding.  Nice!
Helen of Beyond Salmon in Boston, MA went way beyond the call of duty.  As luck would have it, she had scheduled a tart baking class just ahead of the deadline for WTSIM, so she and her pupils made four topless tarts!  The sweet ones were an apple galette and the pear tarte tatin pictured.
Margaret of Kitchen Delights in the West-Midlands went both topless AND saucy and came up with a pear and almond tart with chocolate sauce.  Talk about a perfect pair pear… 😉
I-Ling of Feed Me! I'm Hungry! (formerly of Melbourne but now newly-arrived in… London!  Yay!) throws a proper strop, bemoaning her lack of familiar kitchen utensils and beloved kitchen.  But she still manages to get 'em out for the lads (and ladies!) as she parades her shamelessly topless pear tart Bourdalou
Katy of Sugarlaws in Manhattan, NY surprises herself with how easy shortcrust pastry can be to make and then astonishes herself with how professional (and delicious!) her classic chocolate tart looks.
Camila of Culinary Tests in Sao Bernardo (Brazil) was determined to take part in a food blogging event this month – and she chose WTSIM!  Yay!  She apologises for the looks of her strawberry tarts, but vouches for their taste.  And how can you go wrong with white chocolate and strawberry ganache in a crust made from chocolate wafers, nuts and cinnamon?
Amy at Tart Reform (don'tcha love that title?) in Washington DC really goes for the all-out pimp my snack approach and recreates what she calls a giant Reeses cup: a chocolate peanut butter tart.  As a confirmed addict of Hershey's peanut butter kisses, this sounds like my undoing :o)  Toplessly choc-tastic.
Elizabeth at Blog from Our Kitchen, situated at "approx 43°N, 79°W. ie: still north of the 49th parallel" loses track of time but luckily, because of my tardiness, whe still manages to sneak in before the event ends.  She gets very, very excited at the thought of a great big butter tart – and by the sound of it, she has reason to!  Sounds to me like the US version of the English treacle tart, and what's not to like about that?!
Linda at Making Life Sweeter in The Hague makes one of my favourite tarts – a lemon tart.  But… she rings the changes by using clementines in her lemon curd!  Sounds absolutely marvellous – do check it out.
Somebody else who went for an alternative lemon tart was my lovely friend Inge from Vanielje Kitchen, just up the road in Wiltshire.  She regales us with a rollercoaster ride of a story of Cape cobra snakes and a family tea at Cape Town's Mount Nelson Hotel, before sharing with us her grapefruit meringue tartelettes. Wonderful!
Antonia of Food, Glorious Food! right here in London decides to come over all Christmassy.  If you've ever craved mince pies but found them to be too stodgy, with the wrong pastry-to-fruit ratio, Antonia's mincemeat and apple tart could be just the ticket.
Angela of A Spoonful of Sugar in Bristol is yet another participant who made a variation of a lemon tart, but her's is a tart with a difference.  Well, two differences in fact – the addition of beautiful rhubarb, and the use of an experimental low-fat shortcrust pastry.  Although she's not 100% happy with the pastry yet, it looks pretty darn good to me.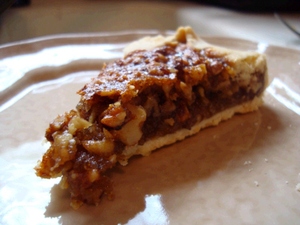 Something completely different next from Jenny from I'm Hungry in Little Rock, AR.  She starts off wanting to make a fruit tart but ends up making a wonderful sounding honey-walnut tart – and there's crystallised ginger in there too!  Mmmm.
FoodFreak of FoodFreak in Germany decides to cheer herself up in winter by defrosting some of the redcurrants she froze in the summer.  Her individual redcurrant tatelettes are little jewelled circles of deliciousness and bright enough to cheer the dullest day – take a look!
Syrie of Taste Buddies in Canada came up trumps with the most decadent topless tart I have ever seen (no offence to Dita von Teese!).  Her dark chocolate mousse and raspberry tart not only has a crust made of crushed biscotti, but also contains rich dark chocolate mousse and absolutely picture-perfect raspberries.  Breathaking!
Although initially somewhat taken aback by my solicitation of topless tart recipes, Jen Jen of Milk and Cookies in Sydney loses her inhibitions and joins in enthusiastically in the end 🙂  Her contribution of glazed lemon tarts with caramelized oranges is one of the prettiest this month.  Those tarts look like lemony little creme brulees – delightful!
Melody of FruitTart in Illinois could not resist joining in the topless mayhem – and with a blog name like that, how could one refuse?!  She shares the calories love recipe for her spectacular-looking pear and blueberry tart.  Edible art if ever I saw it!
My friend Pille from Nami-Nami in Tallinn, Estonia continues her small obsession (!) with sea buckthorn and gives us a topless sea buckthorn and toffee apple tart.  Check out how pretty the uncooked tart is – and then try to imagine how delicious the finished product is!
The lovely from Anne from Anne's Food wasn't even thinking of WTSIM when she posted her fantastic mocha walnut torte… but as soon as I discovered it I knew it would be ideal for this month's theme.  And how can you deny something so pretty its spot in the limelight?!
Jelly from Fragole e Cioccolato in Milan, Italy wows us with a caramel banana tart – and even for somebody who doesn't like bananas, this looks strangely enticing.  Which gives you an idea of how good it must be!
Susan from the wonderfully-named Sticky, Gooey, Creamy, Chewy in Sarasota, FL tells the hilarious (and familiar tale) of "pantry ADD".  You know where you buy that wonderfully exotic ingredient on a whim, make great plkans for it, put it in your pantry and… forget all about it?  That's the one.  But she shakes off her ADD and comes up with a big fat Greek pear tart which she describes as tasting like baklava stuffed with pears.  Yum!
Mandy from Fresh from the Oven in St Louis tells the story of her absolutely glorious Thanksgiving dinner (check out the pics of the World's Most Perfect Roast Turkey!) which ended with an edible work of art:  her Normandy apple tart.  Too beautiful to eat!
Jenny of Foray into Food in ?? is another one who gave in to the lure of a nutty pie.  But this is a pecan pie with a difference:  there is a layer of chocolate spread on the crust below the nutty filling!  Can you imagine anything more deliciously decadent?  Me neither 🙂
Amanda from Mrs W's Kitchen in central New York is another one overcome by seasonal thoughts. She puts together a brilliant combination of flavours in her pear cranberry galette with blue cheese, hazelnuts and agave nectar – inspired!
Tina from Sweet Designs in Elkhart, Indiana somehow found time in her blog event baking schedule (she also took part in Cupcake Hero and the Daring Bakers!) to make a banana Fostesr tart.  That's Fosters as in Foster's rum.  I think that enough rum culd even make an old banana-hater like me change her mind!
Anne of A Foodie Froggie in Paris (unsurprisingly in Paris!) tells us all about the lemon curd tartelette at her favourite restaurant – but alas, the chef won't part company eith the recipe!  Undeterred, Anne reverse-engineers the dish by adding speculoos powder to the crust, making creamy orange tartelettes with speculoos-based dough.  Wow!
Desie of Maybahay in Sydney encounters one of those problems all food bloggers have had at some point: a dish that looks like a dream but falls apart on serving!  She saves the day as it ends up as a white chocolate and tropical fruit dessert, but it did start out as a beautiful tropical white chocolate mousse tart, so it certainly fulfils my tarty criteria 🙂
The lovely Helen of Tartelette in South Carolina writes about Thanksgiving and trying to come up with a dessert a little more interesting that the standard pumpkin pie.  Her mind is swiftly made up, though, when an extra and unordered box of cranberries is delivered to her kitchen.  If life gives you surplus cranberries… make these gorgeous caramel cranberry nut tarts!
Gaye from Laws of the Kitchen in Australia ponders the raunchy nature of this month's theme for a while… and then does a 180 degree turn and produces a strawberry chiffon tart so demure that it blushes at the mere mention of toplessness.  I mean, look how pink it's gone! :o)
Andreea of Glorious Food and Wine in Brussels laments the fact that in the last few months of the year everyone is so busy tring to fit in the things they have not got round to the rest of the year, that simple pleasures like cooking for pleasure fall by the wayside.  She treats us to her wonderful plum tart just to show that delicious food does not have to take all night to make.
Some pretty decadent stuff up next as we visit Megan from Megan's Cookin' in Redding, CA.  It's got chocolate.  It's got bourbon.  It's got molasses.  What more can a girl want?  Oh yes – astonishingly, her bourbon pecan tart with chocolate drizzle comes from a Cooking Light magazine!
Another WTSIM newbie is Betsy of I Was Born a Woman in Italy.  Her tarte au vin (wine tart) starts with a cocoa-almond pate brisee with a touch of cinnamon, topped with a filling that basically sounds like a red wine custard.  Now that's what I call a tart!
The lovely Chris of Melecotte (who has had quite a site redesign!) tells us that she found a husband.  His name is Williams.  As in Williams Sonoma. The reason for this torrid affair lies in the cashew almond walnut caramel tart that she makes for us this month – and who am I to argue with her excellent taste in men (or tarts)?!
And now for something completely different…  Gretchen of Canela y Comino in Lima, Peru regales us with what she learned in Home Economics class ("don't iron pot holders. They wind up really flat and the heat sort of singes the synthetic fibers inside").  She then confesses to having a love-hate relationship with flan but makes one for scientific WTSIM purposes – and actually likes it!
And last but not least, my, myself and I – your charming host the Cooksister decided to go back to the roots of South African cuisine and try my hand at spicing up the old classic of milk tart with a touch of cardamom.  A spicy tart indeed.
And that's it folks!  Another bumper edition of WTSIM draws to a close.  Next month, Johanna will take over as host and rumour has it that souffles may be involved. You have been warned…!