Can there be any sport about which people hold stronger opinions than skiing?  When you say "I'm going to play tennis" or "I'm just off to hockey practice"or "Hey, just back from a golfing holiday in Spain", people tend to just say: Oh that's nice, hope you have/had a good time".  But mention your ski holiday and every man and his dog has an opinion.  These range from: "Oh – I am so so jealous! Where are you going?"; through "I've never tried it – am too nervous/broke/scared/cold to try"; to "Hate it – it's a stupid and terribly dangerous sport!" (the latter strongly-held opinion sometimes expressed by people who have never skied a day in their lives!). Some tell me I am living on borrowed time and will surely injure myself one day (femur already broken and healed thanks!); others when I try to convince them that they should try it tell me "Oh it's OK for you – you learnt to ski as a child!  I am too old to learn!". Umm – no, I learnt when I was 37! Either way, I have learnt that there are some people who simply will not ski, which is a problem if their friends and family are addicted to skiing! Just last week a friend told me she was worried about taking her parents and her young kids on a ski holiday as none of them ski and what would they do all day.  So following on from my comprehensive guide to skiing in Kitzbühel, Austria, here are 7 things to do in Kitzbühel if you do not ski.
 Take a city walking tour of Kitzbühel
Unlike some resorts, Kitzbühel is a living, breathing town with a proud history and we were given a guided tour by Pepi Treichl, a lifelong resident of Kitzbühel and now in his mid 60s.  The charming Pepi explained the history of the town's name (originally a combination of Chizzo, a Bavarian clan, and bühel, a settlement upon a hill) and how it was a mining town before having to reinvent itself as a tourist destination after the decline of the mining industry.  The colourful houses lining the cobbled streets of the old town are mainly Mediaeval and Pepi explained that each different colour denoted a different owner – sometimes two colours on a single house. These colourful facades definitely make Kitzbühel one of the prettiest resorts I have visited. Pepi also pointed out the designer stores scattered around town – we passed both a Rolex and a Louis Vuitton boutique – that make Kitzbühel an Alpine shopping mecca for the well-heeled.
Image courtesy of and © Suze at Luxury Columnist
Our tour also took us to the two principal churches of Kitzbühel, namely the adjacent Liebfrauenkirche and the Pfarrkirche.  Surrounding them is the tranquil Bergfriedhof mountain cemetery, where you will find a number of graves of well-known locals, including Peter Aufschnaiter, one of the two Austrian mountaineers who took part in expeditions in Tibet and met the Dalai Lama. He was immortalised on the film Seven Years in Tibet, played by David Thewlis. You can't miss his grave as it is decorated in colourful Tibetan-style prayer flags. Contact the Kitzbühel tourist office to arrange a historic city tour (and Pepi may even end the tour with a bugle serenade as he did for us!).
Go tobogganing
I didn't get to try this on my visit, but adults and kids alike can indulge in some snowy fun on the Gasiberg toboggan run.  The twisty 3.5km toboggan run starts next to the Gaisbergstüberl hut and is open every day. It is also floodlit until 23.00 on Tuesdays and Saturdays. Toboggans are available for hire at the bottom of the run and can be handed back until 23.30 during night tobogganing sessions. Season and annual passes for the Kitzbühel/Kirchberg ski area include use of the Gaisberg lift in the evening. Ski passes for 6 days or longer for the Kitzbühel/Kirchberg ski resort include free rides for one evening.
Image courtesy of and © Kitzbuheler Alpen
Image courtesy of and © Kitzbuheler Alpen
Take a guided winter walk in the countryside
If you love the snowy outdoors but still do not want anything adrenaline-fuelled or too strenuous, then winter hiking is definitely a good option.  We met our guide and fellow walkers outside the tourist office and immediately felt as if we had not read the memo – there we were in jeans and boots, no daypacks, no walking sticks, surrounded by people who looked as if they actually knew what they were doing! But luckily our cheerful guide Engelbert (who spoke perfect English) provided us with poles and off we set, taking a bus to the starting point of the walk which took us first through a wooded path; then along the Nordic ski trails around what seemed to be a frozen lake; and finally up a hill to our rustic lunch mountain hut lunch venue.
Image courtesy and © Milou Van Roon of Explorista
Engelbert was knowledgeable and stopped often to chat to people and indicate good views of points of interest. A variety of guided winter hiking and walking tours are free and available from Monday to Friday throughout the season. The meeting point is at the Kitzbühel Tourist Information Office, Hinterstadt 18, at 09:45 hours. The costs of bus/taxi journeys and lunch are not included and a lift ticket purchase may be required, depending on the route. Walking poles are available for hire at the cost of €12,00.
Try indoor archery
I have never been a huge fan of the Hunger Games… but approximately 60 seconds after a huge curved wooden bow was placed in my hands, I was totally channeling inner Katniss Everdeen! Arena365 is a large sport and leisure complex in the village of Kirchberg, housing gym facilities, ten pin bowling lanes, a couple of indoor tennis courts… and a 700 m² indoor archery range. I had pictured this to be like a shooting range – a bunch of circular targets against the far wall and a line of people shooting their arrows from little booths at the opposite end of the room. But at Bogensport Gigl the entire room has been set up to offer a passing resemblance to the outdoors, with gravel and artificial plants and 28 3D targets representing animals ranging from the expected (antelope) to the slightly bonkers (giant lizard and tortoise).  For the purists. there are also a few traditional round archery targets.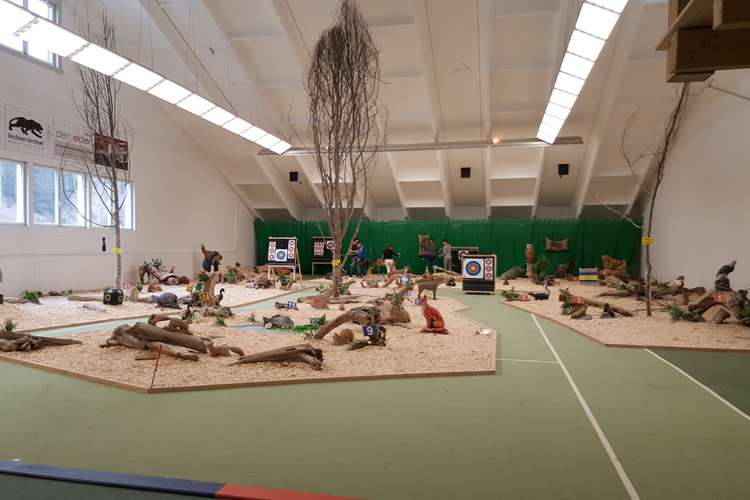 You can rent bows and arrows and are also given an arm guard and a brief set of instructions on proper technique and etiquette before being let loose on your rubbery targets.  All levels of proficiency are catered for, with some easy-to-hit targets close to where you are standing and some more challenging targets the full 40m away against the back wall. About 8 people can shoot at the same time, making it quite a sociable activity.  Afer a few false starts, I got the hang of the bow and was happily hitting things 40m away against the back wall.  And if I can manage that much proficiency on my first time, anybody can! It's a great all-weather sport requiring no fitness and ideal for those with impaired mobility. Although this had not been on our original itinerary, this was one of my surprise hits of the wseek! Opening times: Tues – Fri 1:00 p.m. – 8:00 p.m.; Sat 10:00 a.m. – 8:00 p.m.; Sun on request. Prices: Children €5, youths €10, Adults €14 for 90 minutes.
Go snowshoeing in the mountains
While I was still in hospital following my skiing accident in 2014, my husband bought me a pair of snow shoes because I had sworn on my mother's good name that you would never see me clip my boots into a pair of skis again. But… as it turned out, less than 2 years later the urge proved too strong and I was back on skis again, snowshoes in pristine condition in the loft. Sorry mom… So when I strapped a pair of snowshoes onto my feet in Kitzbühel, I was a nervous rank amateur.
We had met a group of showshoers at the Kitzbühel tourist information office and taken the Hahnenkammbahn cable car up the mountain. Engelbert led us around the front of the ski station where it was quieter and we all had a chance to strap on our shoes, get some basic tips on technique and try walking around in the deep powder.  Once Engelbert had watched us all negotiate a small hill and was satisfied with our proficiency, we set off walking up a blue piste.  It wasn't long before we got to our first mountain hut and stopped for a hot chocolate and a giant slice of apple strudel – calories that we would be needing for the next section of the hike! From our first stop onwards, we left the groomed pistes behind and headed into the pristine deep powder snow, traversing a slope under a perfectly serviceable chair lift.  From there we headed into the snowy pine trees and followed a steep zigzag course (not a nice open trail!) relentlessly up. By the time we got to our lunch stop for a steaming bowl of goulash soup, I was exhilarated but thoroughly exhausted and all notions that snowshoeing is for sissies had been comprehensively dismissed!
The best way of describing snowshoeing is trying to walk up a sand dune while wearing a pair of flippers – it's gentle but still a good cardio workout. I loved that you got off the beaten track (literally!) to enjoy some serene and pristine snowy mountain landscapes, as opposed to skiing where you are always surrounded by the rest of humanity on the piste. I'd definitely do it again! There are many self-guided snowshoe trails marked on Kitzbühel hiking maps, but if you prefer safety in numbers, the Kitzbühel Tourist Information Office also offers free guided snowshoe walks – which is what I did, once again under the experienced guidance of Engelbert. Poles and snowshoes can be rented from your guide on the day for €12.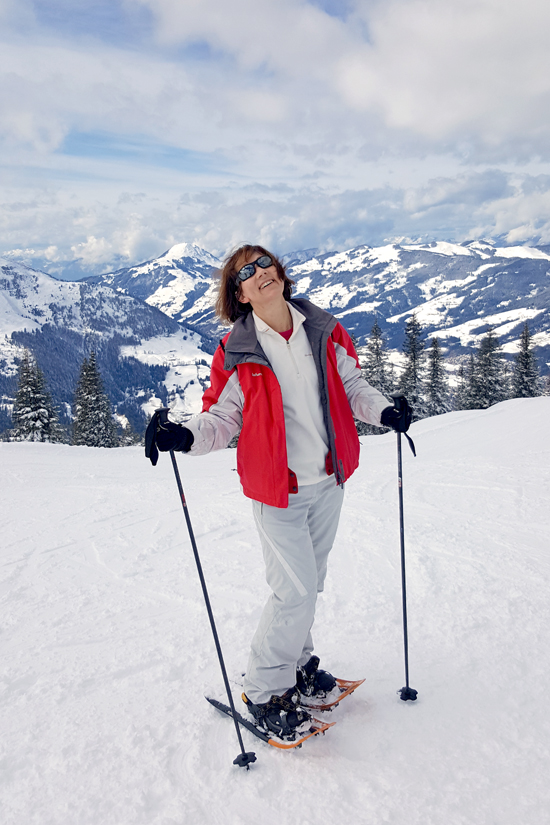 Take a scenic horse-drawn carriage ride
After our snowshoeing experience we were ready for a more sedate activity and the perfect way to end the day was with a horsedrawn carriage ride.  There are a number of horse-drawn carriages operating in Kitzbühel and as you walk through the town you can constantly hear the sound of horses' hooves on cobbles. Once we were comfortably settled under a snuggly blanket, our one hour ride took us through the town and then around the Schwarzsee lake – so pretty and so peaceful with only the sound of the horses hooves and the gentle creaking of the carriage to keep us company.  Other routes are also available, depending on how much snow there is on the ground.
Image courtesy and © Milou Van Roon of Explorista
Image courtesy and © Milou Van Roon of Explorista
Image courtesy and © Milou Van Roon of Explorista
Attend one of Kitzbühel's annual events
During the winter, Kitzbühel plays host to a number of internationally renowned events, all of which provide excellent opportunities for spectator entertainment.  Every January Kitzbühel hosts the Snow Polo World Cup, the world's largest polo tournament on snow.  What the town is most famous for is the annual Hahnenkamm downhill ski race in late January which brings international skiing stars and a party atmosphere.  Shortly after, when I visited in February the Streif vertical UP race takes place – the same course as the Hahnenkamm downhill race but running up the mountain. At night. As you do. And if you are spending Christmas in Kitzbühel you will love the traditional  Christmas Advent market (30 Nov to 26 Dec).
Image courtesy of and © Kitzbuheler Alpen
I was only there for a week and of course there are many more activities available than I had time to try, including Segway tours on the snow, curling, and a large the indoor swimming complex – see the Kitzbühel Tourism website for even more winter activities.
GETTING THERE
The nearest airports to Kitzbühel are Salzburg (74km) and Innsbruck (97km) both of which which require about a one hour road transfer. Alternatively, Munich (170km) is served by more airlines and is still only a two hours road transfer.  There are many companies offering private and shared transfer services from the airport.  Alternatively, there is also a train station in Kitzbühel and all international express trains stop there.
STAYING THERE
If you like peace and quiet, do what we did and stay in the village of Aurach, a short cab or bus ride from Kitzbühel.  We stayed at the Alpen Garni Auwirt Hotel, a traditional small family-run hotel that was comfortable and modern while still retaining a homely feel.  For the budget-conscious it also offered cosy wood-panelled single rooms like the one I stayed in below. It was a lovely peaceful haven to return to at the end of the day; the breakfasts were hearty; the bar well-stocked, and the owners are utterly charming.  For a wide selection of restaurant reviews, both in the villages and on the pistes, see my previous post "Where to eat in and around Kitzbühel".
For more information on winter holidays in the Kitzbühel area, see the Kitzbühel tourism website.
FURTHER READING
DISCLOSURE:  I travelled to Kitzbühel as a guest of Austrian tourism and was compensated for my time.  I was not expected to write a positive review – all views are my own and I retain full editorial control.
Let's keep in touch!
You can also find me tweeting at @cooksisterblog, Instagramming as Cooksister, Snapchatting as Cooksisterblog or pinning like a pro on Pinterest.  To keep up with my latest posts, you can subscribe to my free e-mail alerts, like Cooksister on Facebook, or follow me on Bloglovin.