When I was still a teenager, my mom used to regale me with stories of her European adventure in her late 20s.  She had saved up for ages, took one of the Union Castle Lines mailships that sailed back and forth between the UK and South Africa, and set sail.  Somewhere, I still have the certificate she received when she crossed the Equator. She loved her 6 week trip, soaking in the art, music and culture of Europe and picking up some travel tips along the way, which she imparted to me before my first solo overseas trip.  One was "restaurants with tablecloths are always more expensive"; and another was "restaurants with a view seldom have the best food – they just trade on their view". With the current trend towards more relaxed fine dining, I'm not sure that the first still holds true: Noma, for example, had not a tablecloth in sight and was seriously expensive.  But I still tend to agree with the second, so it is always nice to visit a restaurant that disproves the theory, serving great food despite its killer view.
Min Jiang occupies an enviable position on the tenth floor of the Royal Garden Hotel, overlooking the verdant Kensington Palace Gardens. On a clear and sunny day, you can see many of London's taller landmarks from the almost floor-to-ceiling windows, including Tower 42, the Gherkin, the Cheese Grater, the Walkie Talkie, The Shard and the London Eye. The sleek, modern room runs almost the entire length of the building and is divided into a bar area on the right as you walk in, and a restaurant on the left.  And despite the killer view, the restaurant has a reputation for excellent food with the star dish being their legendary wood-fired Beijing duck.  The reason for our visit though was a special tea pairing dinner in honour of National Tea Day, billed as a celebration of tea, Britain's favourite drink, in all its incarnations.  After previously importing all its teas from Singapore, the restaurant wanted to find a local supplier and has recently started working with family-run Covent garden tea merchant The Tea House. I'm afraid that I have never been a huge tea drinker, preferring Rooibos or herbal infusions, but I was intrigued by how the pairings with food would turn out.  As an aperitif, we had a "teatail", one of four unusual tea-based cocktails that the bar offers.  Ours was an Oolong Teatail (£12.50)consisting of Spring King Oolong blended with Havanna Club 7-year old Rum, Malibu Coconut Rum and a slice of orange (£12.50).  This was a deliciously unsweet and citrussy drink that packed a real punch!
We started our meal with the steamed dim sum platter (£15 for 6 pieces) consisting of siew mai with pork and prawns; pumpkin dumpling with mixed seafood; and jade bamboo dumpling – all delicious.  These were paired with Dragon Well Lung Ching Organic tea, a light and fruity green tea for cleansing the palate. Lung Ching is often called the national drink of China and is served to visiting heads of state.  Next up was the restaurant's signature dish: the wood-fired Beijing duck (£58 for a whole duck), basted and cooked by the restaurant's dedicated duck chefs to burnished bronze perfection.  One of the chefs came out to the table to carve it for us with a cleaver and it's amazing how dexterously he carved it into perfectly even slices using such a hug (and dangerously sharp!) implement.  A few deft cuts later and the slices were laid out on the lazy Susan in front of us, together with a bamboo steamer full of pancakes and a little pile of crispy duck skin and granulated sugar into which we were told to dip the duck skin. It's a dietitian's nightmare (basically saturated fat dipped in refined sugar!) but oh-so-delicious. Together with the duck and pancakes we were also given two sets of accompaniments:  the more traditional shredded leeks, cucumber batons and plum sauce; but also a more unusual combination of garlic paste, daikon radish and pickled tientsin cabbage (a bit like kimchi and seriously addictive!).   When you order the duck, it comes as a first (the breast) and a second (the dark meat) serving. The first was the pancakes, and the second took the form of fried noodles with sliced duck (not pictured but delicious). We then had a selection of dishes from. Our duck was served together with Formosa Oolong tea – a far richer and darker tea than the previous one, but with smooth and faintly sweet flavours that paired well with the duck.  Formosa Oolong is a darker style of tea originally from Taiwan (Formose is the name Portuguese explorers gave to the island) but today also grown in mainland China.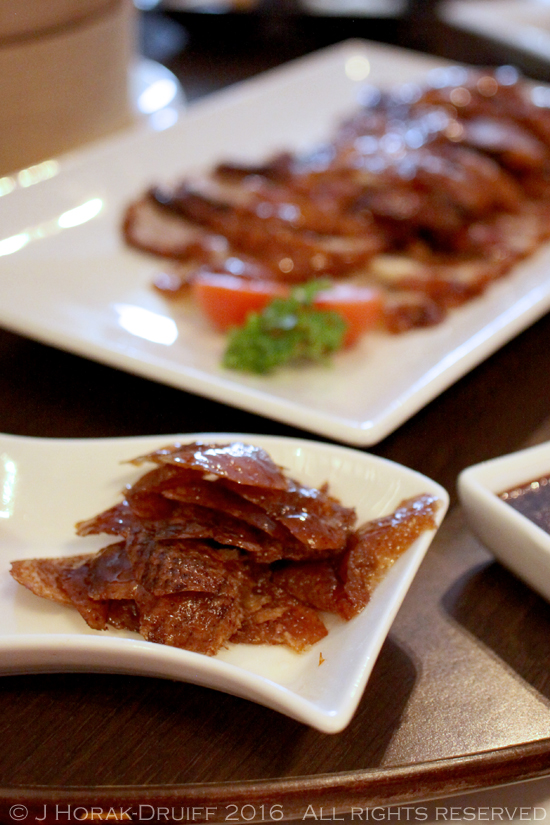 We then tried a selection of dishes from the main course menu, starting with the rather wonderful pan-dried Dover sole fillets in XO sauce (£32.00). The fillets themselves were lightly crumbed before being pan-fried, ending up like very posh fish goujons, and in my opinion, almost everything in life is improved by the addition of XO sauce, a spicy umami-rich condiment originally from Hong Kong and made from a selection of dried seafood.  This was followed by the diced ribeye of beef with black pepper sauce (£24.00).  This remains one of my favourite dishes at the restaurant, both for the outstanding quality of the tender chunks of beef and for the robust pepper flavour of the sauce.  We also had two of the spicier dishes on the menu, starting with sautéed Gong Bao tiger prawns (£22.00) – big, sweet, juicy tiger prawns sauteed with chillies in a citrussy spicy sauce – a wonderful dish for spice lovers.  Last but not least, we tried the
clay pot sanpei with corn-fed chicken (£16.50), a traditional hotpot dish packed with succulent chicken chunks, vegetables and with a subtle heat from
dried chillies.  We also tried a side-dish in the form of seasonal veg (choi sum, in our case) stir fried with oyster sauce (£10.00)All these dishes were paired with Yunnan Imperial FOP, a high-grade black tea with a mildly perfumed, floral flavour.  The letters FOP stand for Flowery Orange Pekoe, which means that the tea is premium grade and made from the of long leaves and tender tips of the tea plant.
To end our meal, we kept it light with a pretty seasonal fruit platter (£14.50 for 2 people), paired with my favourite tea of the night:  China Lychee Lizi Hongcha, a traditionally scented black tea with honey and lychee flavours.  The lychee flavour is achieved by mixing lychee peels and flowers with the tea leaves during the oxidising process – and it's no wonder that this fabulous, subtly fragrant tea has been enjoyed wince the Ming Dynasty in the 1300s. Sadly our tea-pairing menu was a bespoke event, but staff at the restaurant are always more than happy to suggest tea pairings with any dish that you may order.  It's a fun and unusual way to accompany a meal, and definitely something I'll be repeating.  A final tip is that the wood-fired Beijing duck takes 45 minuntes to prepare, so if you plan to have it, it's advisable to pre-order at the time of booking your table.
Nearest station: High Street kensington
Approx. cost per head: £80 for starter, main, a side, 2 teas and a cocktail
Min Jiang
Royal Garden Hotel
2-24 Kensington High Street
London W8 4PT
Tel: 020 7361 1988
Email: [email protected]
DISCLOSURE:  I enjoyed this meal as a guest of Min Jiang but received no further remuneration to write this post.  I was not expected to write a positive review – all views are my own and I retain full editorial control.
If you enjoyed this restaurant review, you might also want to have a look at my other restaurant reviews.
Let's keep in touch!
You can also find me tweeting at @cooksisterblog, Instagramming as Cooksister, Snapchatting as Cooksisterblog or pinning like a pro on Pinterest.  To keep up with my latest posts, you can subscribe to my free e-mail alerts, like Cooksister on Facebook, or follow me on Bloglovin.