Coming from South Africa. I suppose I should not have been surprised at people's mixed reactions when I announced that I was going to Tel Aviv.  Comments ranged from "Is it safe?" to "Why on earth would you want to go there?" – very much the same comments I get when I tell people they should book a trip to South Africa! In a way I can't blame them – so much of our perception of the world is based on what we see in the mainstream media, and they frame their stories in suitably dramatic terms to sell their products.  Follow the news on South Africa for a week and you'd think the entire country is descending into anarchy – but step off the plane and you will find the vast majority of people simply getting on with the daily business of their lives.  And this is pretty much exactly how I felt upon arrival in Tel Aviv to explore its food scene via the Open Restaurants Week initiative.
Tel Aviv was founded in 1909 by Jewish immigrants on the outskirts of the ancient Palestinian port city of Jaffa on Israel's Mediterranean coast.  After Jerusalem it is the second most populous city under Israeli administration but, unburdened by Jerusalem's weighty religious history and given its coastal location, it is a far more relaxed city. It's also a city that takes its food very seriously – there are an astonishing number of restaurants and I was really impressed with the number of people I met who had travelled and studied abroad but had then returned to Tel Aviv to open restaurants or food related businesses there. The availability of excellent fresh ingredients and so much culinary talent makes for a heady mix of cuisines and a vibrant, modern food scene and Tel Aviv is today recognised as one of the world's culinary capitals. Tel Aviv Open Restaurant Week is an innovative opportunity to experience the city's vibrant culinary culture in a novel way. Dozens of Tel Aviv restaurants open their doors over the course of five days so that visitors can get to see what happens behind the scenes. As each restaurant decides on the format of the experience, a wide range of activities is available, from hands-on masterclasses with chefs to chocolate or sushi-making workshops, to vegan cooking experiences, to food and wine/beer matching dinners. Group numbers are kept small so each participant is guaranteed a personal experience and one-on-one time with the chef, and all experiences include tastings or a meal. Here are the restaurants I visited in 2015:
Our first full day in Tel Aviv kicked off with a bus ride along the coast from our hotel to Jaffa. Along the way, we got to see some of the impressive 14km of golden sandy beaches that the city boasts before arriving at Cassis directly on Givat Aliyah beach, the city's most southerly beach in Jaffa. The restaurant's fresh, clean interior with turquoise accents reflects the view outside which you can enjoy from the large windows or the terrace on a warm day – or hang about inside and watch the team create and plate dishes in the open kitchen. Executive chef and owner, Ayelet Perry (a geneticist by training), returned to Israel after 17 years in San Francisco where she managed Cassis Catering, The Red Currant Restaurant and The GooseberryBox. Upon her return to Tel Aviv, she wanted to create a menu and a space that combined the fresh flavours of California with the traditional dishes and excellent local ingredients. Ayelet herself was there to greet us with a welcome cocktail and talked us through her culinary journey, and it's easy to feel her infectious passion for food. After talking us through the story of Cassis, she welcomed us into her kitchen where we watched her make two of her signature Jaffa-Cali flatbreads.  The bread itself is somewhere between a pita and a focaccia, and the restaurant's signature dish is an Israeli breakfast on a flatbread (salad, olives and cheese).  She also showed us two other toppings: one with roasted sweet potato slices, cheese, confit onion and fried egg; and another topped with beet-cured smoked salmon, cream cheese and fried eggs.  After the demo, we all got to try our hand at making and then devouring our own flatbreads while gazing out over the ocean, followed by a traditional dessert in the form of malabi (milk pudding) with a strawberry compote.  I really loved Cassis – Ayelet's enthusiasm was infectious; the food was fresh and excellent; and nothing beats a beachside location!
Our next stop was IKA chocolate for a chocolate making demo.  Ika was founded by Ika Cohen, a Tel Aviv native who studied marine biology after her national service.  After graduation though, she travelled to the South Pacific where she discovered her true calling: chocolate! After training and working with various renowned chocolatiers in France, she returned to Tel Aviv and opening her own chocolate shop in 2011 and in 2014 she won a joint gold medal at the International Chocolate Awards in London for her za'atar truffles. Her joint truffle gold winner in 2014 was Peter Svenningsen, a Danish chocolatier who after training as a chocolatier in 2007 as a hobby, left a 25 year career in graphic design and advertising to set up Choconord in 2012.  Judging by his wins at the International Chocolate Awards in both 2014 and 2015, he made the right decision!  We were lucky enough to visit Ika's shop while Peter was there and both he and Ika talked is through the chocolate making process. Peter uses Danish Frisholm chocolate for his couverture as they buy their beans directly from farmers in Nicaragua and therefore have total control of the whole bean to bar process. He also uses Danish Iskilde water which is some of the purest available (and is served at Noma!) to make his water-based vegan lactose-free choc.  We got to try three types of 70% cocoa frisholm chocolate while we satched peter prepare both a water and an oil ganache: Johe (rich, nutty, melts amazingly smoothly – my favourite); Nicaliso (astonishing acidity, very fruity); and La Dalia (a deep cocoa flavour and a bit more tannic).  And of course, it would be ride to leave without trying some of Ika's truffles – we had the yuzu-infused truffle and the award-winning za'atar truffle (a heavenly mix of sweet, savoury and spicy).
Our next stop was Abushdid to meet chef Dan Yosha who is 27, looks like a Jewish Brandon Flowers and joined the restaurant towards the end of 2014.  After completing his national service he started cooking and went to Amsterdam to work under stellar chef Moshik Roth at his 2-Michelin star restaurant &Samhoud Places.  This was followed by a stint in St Moritz after which he returned home to Tel Aviv where he was captivated by the history of Abushdid and agreed to head up the kitchen.  Leah Abushdid and Itmar Ben-Navi lived in the house that the restaurant now occupies. At 16, the beautiful and much admired Leah from a rich Moroccan Sephardic family met and fell in love with Itmar a 26-year old Ashkenazi writer with no money.  Her mother was opposed to the relationship and so Itmar took to publishing  passionate poems about their love in his newspaper Haor. The entire city was captivated but Leah's family were mortified and forbade her from seeing Itmar. In 1910, after 3 years of courting and poems, he wrote what many believed to be a poem indicating his intention to commit suicide.  His concerned father approached a friend of Lea's family to intervene and eventually they gave permission for the two to marry. Lea's grandchild has written three books about her life which include many of her traditional Israeli recipes, some of which form the basis for chef Daniel's dishes – he described the food as a taste of home, with his own personal stamp.
The building itself is indeed is very beautiful – a historic Tel Aviv house redecorated with attractive, eclectic furnishings and finishes. I particularly loved the ornate ceiling and the wall hung with all shapes and sizes of vintage mirrors.  Chef Dan gave us a special demo of how he prepares one of his signature dishes: an Israeli take on a mackerel ceviche.  He began with a demo of how to fillet the fish and ended by tossing it together with mackerel, spicy olive oil, yoghurt, tahini , pine nuts, radishes, onion, cucumber ribbons and sumac. It was a fabulous mix of flavours, textures and colours – everything a dish should be and a perfect lunch plate.  After the demo we were invited to take a seat and sample a selection of other dishes off the menu.  Appetisers included smooth and creamy hummus; bonfire potatoes (roast potatoes, smoked salmon, sour cream and fresh dill); and Tunisian Nicoise (charred tuna, pickled lemon, potatoes, capers, olives, green beans and sweet harissa). Our selection of mains included mahshi (cabbage leaves and courgettes stuffed with lamb mince, rice, pine nuts & berries, served with ricotta and greens); shrimp in a spicy tomato sauce with beans and cherry tomatoes; and my favourite – fish and spinach on hummus mashed with yoghurt. I really loved the dishes here – they were all packed with flavour and freshness, but were never fussy enough to overshadow the excellence of the raw ingredients. And all the dishes would make great family-style sharing platters!
With our food we had wines presented by Assaf Paz, the winemaker at Vitkin winery situated at Kfar Vitkin, 20 minutes drive north of Tel Aviv.  Assaf returned to Tel Aviv after a few years abroad working at five different wineries and gaining exposure to international trends and techniques. He explained that there has been a long tradition of winemaking around Tel Aviv but during periods of Muslim rule, many of the vines indigenous were uprooted, giving modern winemakers scope to try international varieties. Although most of the wineries have gone for the classic trio of Cabernet Sauvignon, Merlot and Chardonnay, Vitkin have chosen to focus on some French varietals that are seldom found outside of blends, such as Petit Syrah, Petit Verdot and Carignan, while also expanding into classic white varietals like Viognier and Riesling.  I loved the minimalistic label design on the bottles which feature no English text apart from listing the grape varieties on the back. We tried the 2013 Israeli Journey white blend (Viognier, Rousanne, Colombar and Gewurztraminer, not all grown in the same region) which was deliciously aromatic and minerally with notes of ripe apples and a long finish.   The second wine was the 2010 Vitkin Cabernet Franc (92% Cab Franc and 8%  Petit Verdot) which has had 15 months in French oak and was rich, ripe and elegant but with the structure that barrel aging provides and some herbaceous notes. The final wine was my favourite – the 2010 Vitkin Carignan.  Although it is Israel's (and formerly France's) most-grown grape, it is almost always grown for volume rather than quality and then used in blends or nondescript table wine.  But Vitkin have tried treating the vines with the respect they deserve and have created a barrel-aged wine from 25-40 year old wines, delivering a gorgeous wine thick with the flavour of ripe blackberries and vanilla but with enough tannin to balance out the juiciness. Vitkin wines are available online via Alpine Wines in the UK.
TYO  
Our last visit was to TYO (the airport code for Tokyo), a Japanese bar-restaurant headed by the internationally-renowned chef, Yasuto Oyamada (also known as Yama-San).  Yama-San was born and raised in Kagoshima City in southern Japan and started working in a sushi restaurant at the age of 16 as a part-time job after school. He moved to Tokyo at 18 to learn the traditional art of handling fish and respecting the seasons of nature. At 21 he moved to New York where he worked in several restaurants and learnt the art of Japanese fusion cuisine at Morimoto. After launching Japanese restaurants in London and St. Petersburg, he relocated to Tel Aviv to open his own restaurant. At TYO, in a beatifully designed space with an oval freestanding bar, he combines traditional Japanese dishes with Mediterannean ingredients and flair.  Yama-San himself was on hand when we visited to take us through the basic steps (well, basic if you are a pro like him!) of making a salmon and avocado dragon roll.  Hint:  it's a lot h arder than it looks!  Even if you can get the sushi rice to stop sticking to your hands, you may find that slicing the final product is more a case of squishing than slicing (the movement is all in the wrist, apparently…).  But Yama-San remained good-humoured and calm throughout and eventually we were all able to enjoy the fruits of our sushi labours.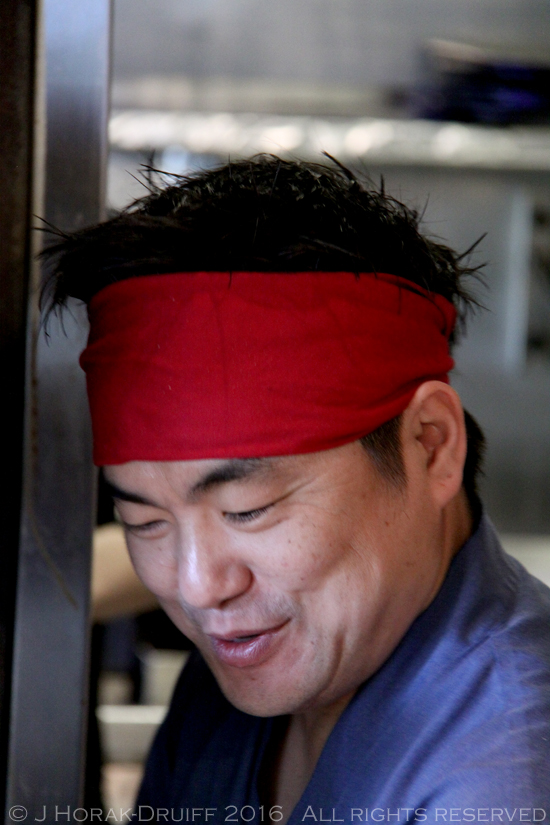 USEFUL INFO
Tel Aviv Open Restaurants 2016 is taking place from 9-12 March and there are about 100 participating restaurants and other foodie establishments.  Prices range from under 100 Shekels for a 2-hour gelato making workshop to about 300 Shekels for a restaurant workshop with menu tastings. Full details are available on their website.
DISCLOSURE:  I visited Tel Aviv as a guest of the Israeli Government Tourist Office.  I was not expected to write a positive review – all views are my own and I retain full editorial control.
If you enjoyed this post, have a look at my other travel posts!
You can also find me tweeting at @cooksisterblog, snapping away on Instagram, or pinning like a pro on Pinterest.  To keep up with my latest posts, you can subscribe to my free e-mail alerts, like Cooksister on Facebook, or follow me on Bloglovin.