Anybody who has flown long haul flight will be familiar with the glamour of modern airline travel. The mad dash to and through the airport, only to arrive at your assigned gate where there is seating for about 15 of the 150 passengers on your plane, and no toilets in sight.  Arriving at your seat on the plane and realising that this space smaller than where you could legally lock up a dog is to be your home for the next 12 hours. The dire menu choices of "chicken or beef – and by the way we have run out of beef". The plastic cutlery. The ache in your joints from spending the night contorted in your seat trying to escape your neighbour's snoring. The execrable coffee. But wait – there is another way: the way of the People Beyond The Curtain. Those chic folks that glide past you on a cloud of Chanel No. 5 and onto the plane with their Louis Vuitton hand luggage tagged "Business Class". This summer, it was my turn to join the People Beyond The Curtain (OK, OK, maybe without the C hanel and the Louis Vuitton tote…) and waft past the throngs of harassed-looking Economy Class passengers as I prepared to board my Business Class flight to Singapore, courtesy of Singapore Airlines.
I had never flown Singapore Airlines before, but their reputation in the airline industry is legendary: the Airline has been named Best Airline in the Business Traveller (Asia-Pacific) Awards for an astonishing 22 consecutive years. It is also known for its catering, even in Economy class, and often has famous chefs consulting on the dishes to be served aboard.  A selection of the finest wines is handpicked for Singapore Airlines by a panel of renowned wine consultants which includes British-born Steven Spurrier. But in addition in First and Business class, passengers also have access to a unique service called  Book the Cook, which enables passengers to pre-select their main course meal choice at least 24 hours in advance from an impressively extensive selection of local and international delicacies.  Upon receiving the menu a couple of days before my flight, I had to double check to make sure I was not dreaming.  Crayfish thermidor? Sirloin steak?  Dim sum? On a plane? This I had to see. But first, things first – here is my experience at every stage of the flight, starting at Heathrow.
ON THE GROUND:  THE SINGAPORE AIRLINES SILVER KRIS LOUNGES At HEATHROW AND CHANGI
The customer experience starts with the dedicated Business Class check-in counters at Heathrow, where there was exactly one person in the queue in front of me.  Bliss! From there  I proceeded to the airline lounge where I met my travelling companions, the lovely Holly of Global Grasshopper (my seat neighbour on the outbound flight), Karen of Lavender and Lovage, and Victoria of Pommie Travels. As a special concession, we were given access to the First Class lounge at Heathrow, a serene space in browns and aqua looking more like hotel lobby than an airport lounge, with free WiFi.  There is a buffet area which when we arrived was full of breakfast foods – pastries, yoghurts, fruit, cereals, granola parfaits and the like, as well as wraps, sandwiches and hot food available to order from a menu. There is also a fully-stocked bar with excellent bar snacks, and table service when we ordered some drinks.  Hmm… G&T at 9 in the morning?  Maybe best stick to fruit juice. Bucks Fizz is fruit juice, right??
At Changi, the experience was similar – the dedicated check-in queues for Business and First Class meant minimal waiting time and more time to explore the rather wonderful Changi airport (more on that in a separate post soon). There are Silver Kris lounges in both Terminal 2 and Terminal 3 at Changi and both offer masses of comfortable seating (also an area with a massive screen for watching TV), meeting rooms, showers, free wifi, internet enabled PCs, a full range of snacks and a well-stocked bar.  There is also a bartender during certain hours, but I think we were a wee bit early for that.  Still, we managed to make our own fruit juice… erm Bucks Fizz… with the Bollinger and OJ on offer! The perfect way to relax before a long flight.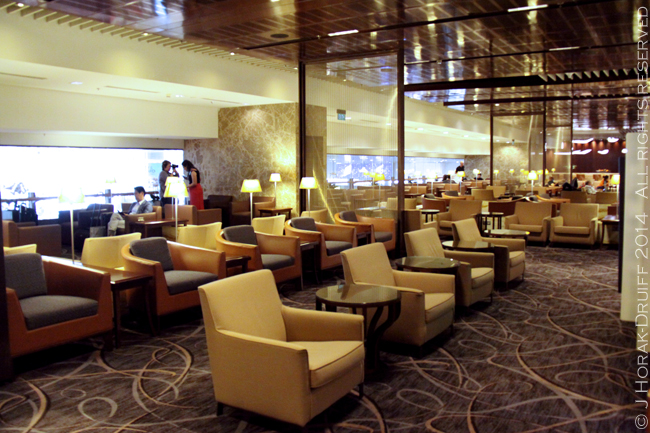 ON BOARD: SINGAPORE AIRLINES BUSINESS CLASS FACILITIES AND SERVICE
Singapore Airlines' commitment to service excellence is apparent the moment you set foot aboard the plane and are greeted with sincere smiles from the beautifully turned out crew  – smiles which never faltered during our 13 hour flights.  In fact, the Singapore Girl is something of an icon in the airline industry – a carefully crafted corporate image of unfailing politeless, supreme efficiency, and impeccable grooming, personified by each and every one of the cabin attendants today.  Unlike the usual businesslike cabin crew uniforms, the female cabin crew are dressed in a traditional batik-patterned uniform called a kebaya (a traditional blouse/dress combination originating Malaysia) which was given a fashionable facelift by designer Pierre Balmain in 1968. Pierre Balmain may be long gone, but the kebaya uniform remains unchanged, as do the traditional slip-on shoes in the same fabric that female cabin crew.  Male cabin crew wear ties made from the same batik fabric and are no less friendly (or well-groomed!).  For 13 hours, they remained friendly, professional and unflappable and perfectly groomed – which is more than many other airlines can say!
Hardly had my derriere made contact with the butter-soft leather seat when a Singapore Girl arrived to utter those magic words:  "Would you like a pre-takeoff cocktail?".  That's a rhetorical question, right? Fearing I may never hear those words on a long-haul flight again, I immediately ordered a Singapore Sling (more fruit juice – right??), which was very good, despite not being mixed fresh.  Sadly, they have yet to acquire on-board mixologists! Drink in hand, I could examine my surroundings. The seat itself is a marvel of technology – but more on that below.  After a short but fruitless search for my television handset, a passing cabin crew member presented it to me from its compartment in the armrest.  D'oh.  Armed with the handset, the entire and very impressive Krisworld entertainment is available to you, comprising popular, classical and international music channels; video games (which can accommodate multi-player games); more movies (about 100 or so), than you could watch on a transatlantic cruise, let alone a 13 hour flight; and complete seasons of various popular TV shows, rather than the usual frustration-inducing 3 random episodes from the middle of series two. The handset itself is substantial and comfortrable to use, with a bright LCD screen and a qwerty keyboard on the back, larger than those of most popular smart phones. This will come in useful if you need to use the inflight wifi (available at a fairly steep extra cost) or need to make an inflight call (also at extra cost).  The cabine crew also handed out headphones which were proper noise-cancelling ones – supremely comfortable to wear – and allowed us to keep them and carry on watching right through landing until the plane's engines switched off.  Oh – and little padded towelling slippers were also handed out which were comfy but made me look a bit like I had escaped from a medical facility, so no photo of those!
Cocktails done, I popped into the bathroom to freshen up before lunch.  If you were expecting a palatial bathroom suite, you will be disappointed.  It's an aeroplane bathroom, slightly larger but otherwise the same as any other.  I did like the addition of the Hollywood dressing room style lights on the mirror though – and I have never before been in an aircraft bathroom that contains fresh orchids! Rather than hand out amenity kits, there is a drawer of free amenities in the bathroom, including toothbrushes, toothpaste, razors, combs and sanitary products.  What did set the bathroom apart from most aircraft loos was the presence of bottles of L'Occitane toiletries – eau de toilette, aftershave and body lotion.  Bliss!
ON BOARD: SINGAPORE AIRLINES "BOOK THE COOK" DINING
And so to the most important part of any flight:  the food! Although Singapore airlines' reputation for catering is already excellent, passengers in First and Business Class also have access to the Book the Cook service, allowing premium main course to be selected in advance of your flight from an extensive menu of over 60 dishes, while still receiving the standard starter and dessert.  I had chose this option for all my meals, but was pleased to note that the four (!) main course choices for passengers who had not opted for this service all looked very appealing.  Before the lunch service, your tray table is beautifully laid for you with a real linen tablecloth and set with crockery and cutlery designed for the airline by Givenchy.  I could get used to this.  First up was the pre-starter of chicken and lamb satay – a classic Malaysian dish that was extraordinarily well executed – succulent meat and a blindingly good spicy peanut sauce. The rest of the meal was of a similarly high quality – and what a treat to eat on proper china with metal cutlery in an aircraft! The starter of Parma ham with melon and mozzarella was of a generous size with excellent ham. But the highlight was my choice of seafood thermidor – a massive portion of fresh fish and juicy prawns in an indulgent cheesy sauce, complete with fresh herb garnish.  At sea level, this would have been an impressive restaurant dish.  At 40,000 feet, it was nothing short of a miracle.  Holly beside me had chosen the sushi and that was beautifully fresh, although she had to ask twice to get a set of chopsticks.  For dessert I chose the tiramisu whoch turned out to be an excellent boozy coffee flavoured ice cream on a biscuit base – even better than the traditional dessert.  Karen tried the summer pudding which was as pretty as a picture too.  With all our faffing, Holly and I managed to miss the cheese trolley, but the cabin crew were happy to bring us each a plate comprising Somerset Brie, Blue Stilton and Lincolnshire Bomber cheese served with quince paste, grapes, nuts and crackers, as well as a choice of fresh fruit.
And after a few hours sleep on my flat bed, it was time to wake up and enjoy breakfast!  Now breakfast is often a dismal affair on planes, with rock hard, cold rolls and coffee that tastes like mud.  Not so in Singapore Airlines Business Class – you can choose from a range of speciality coffees such as cappuccino, latte, espresso and the like – so I opted for a double espresso.  The croissants were not only flaky but also warm, and served with excellent marmalade.  Rachel's Organic yoghurt and a beautiful fruit platter ensured that breakfast was healthy as well as indulgent.  This was followed by a rather peculiar plate of food.  On the Book the Cook menu, the only option for breakfast read "multigrain toast" – which I selected, thinking I would get some variation on an English breakfast, with multigrain toast.  Instead, I was presented with a plate of roasted vegetables, fresh fruit, herbs, low-fat yoghurt… and somewhere at the bottom of all this, multigrain toast. Everything was delicious (particularly the roasted fennel and the beautiful berries) but I was not sure that they all belonged on one plate, and plain yoghurt drizzled over toast does nothing to improve either. By comparison, Holly's filled savoury crepes and sausage (off the normal Business Class menu) filled me with menu envy – so it's good to know you will geet excellent food even without using the Book the Cook option.
Fast-forward three days to the end of our trip and we were  back aboard Singapore Airlines, this time heading home on one of their Boeing 777 aircraft.  Having indulged extensively in Singapore Slings during our trip, I decided to go old-school this time and stuck to Champagne (all the Champagne in Business class is Bollinger, in case you were wondering!).  Once again I had reserved the Book the Cook service for both meals (check out the full list of options here).  The first meal started with God's Own Breadrolls – fabulous cheese and onion focaccia rolls that would make the resistance of the most hardened carb-o-phobe crumble.  After the excellent pre-starter of satay came the starter:  a salad of crayfish tails on baby spinach leaves with grapefruit and sweet chilli sauce.  I could have eaten A LOT more of this… and so pretty!  My main course was something I had ordered specifically because I could no imagine how they would pull this one off: US grilled beef fillet.  I mean – seriously?  Fillet steak on a plane that wasn't as tough as old boots?  This I had to see.  And see it I did – all tender, flavourful and pink on the inside!  It was not as seared on the outside as you would get in a steakhouse, but they had managed to pre-cook it and serve it up at 40,000 feet, still pink in the middle, tender and tasty. Who knew?  For dessert I chose the strawberry cheesecake with a berry coulis and this time I was determined not to miss out on the cheese trolley.  Yes, it really is a proper trolley of cheese that pulls up beside your seat for you to choose your preference…
Meal over, I had a few hours to do some work and take in a few movies before the final meal of the flight was served.  This was described as a "light meal" – although all this seems to denote is that there will be no satay and no cheese trolley.  For all intents and purposes it is another 3 course meal!  This time I started with a roll and something which had caught my eye on our previous flight: a miniature bottle of olive oil for dipping your bread into.  This was followed by a starter of smoked duck salad with artichoke hearts – such beautifully tender and tasty duck breast! The main course from the Book the Cook selection was quite possibly my favourite of the entire trip: prawn and chicken laksa, the fragrantly spicy noodle soup that is popular throughout Singapore, Malaysia and Indonesia.  This was not only a huge portion but also an exercise in beautifully balanced flavours and fresh ingredients.  I wish they would send me a bowl every day at my desk… To finish off there was a chocolate gateau which was pleasant if unexciting ( I would far rather have had the ice-cream cones that they were handing out in Economy Class!).
And in the unlikely event that you have a chance to be hungry between meals, you can order snacks at any time, including sandwiches, crisps, nuts, fruit and sweets – and of course a full range of barista-style coffee, tea or hot chocolate. I think it is safe to say that when it comes to fine dining at altitude, Singapore Airlines' Business Class offering is among the very best.
ON BOARD: THE SINGAPORE AIRLINES AIRBUS A380 BUSINESS CLASS SEATS
Our outbound flight was on one of Singapore Airlines' Airbus A380 aircraft, where Business Class is situated at the front of the  the upper deck (First Class is on the lower deck, right at the front of the cabin).   Seats are  forward facing in a four-abreast 1-2-1 configuration, meaning  that all passengers have direct aisle access – so no awkward climbing over strangers to get to the loo.  We had heard a lot about the seats themselves as the Singapore Airlines A380 Business Class seats are among the largest in the aviation world – a whopping 86cm (34" ) wide!  That's wide – really, really wide.  In fact, two people could easily have sat side by side on my beautifully soft leather seat.  Unlike economy class seats, each seat is encased in a fixed shell which can be extended at the sides to enhance personal privacy.  The seat back does not so much recline as that the whole seat  lengthens forwards – and even without the footrest extended, you can fully extend your legs and rest your feet on the little footstool space below your TV screen.  Ah yes – the TV screen.  Bigger than my first television set in my first apartment!  Each seat has a 39cm (15.4″) LCD screen, as well as a USB port  and a couple of power outlets for charging your gadgets in-flight. There are also useful hidden cubby holes for storing your bits and bobs during the flight, and a large, lit seatback mirror for checking make-up in the morning.  But best of all was the seat's ability to transform into a bed.  A fully flat bed – the holy grail of air travel and often reserved only for First Class passengers.  And it's not that you just recline your seat till it is almost flat – your cushioned seatback actually folds down to create a flat bed, revealing the bedding hidden behind it – clever!  And within minutes, your hostess has transformed your seat into a 193cm long bed, complete with Givenchy-designed bedding. Sweet dreams indeed. My only niggle was that, because the bed lacks a proper mattress (there is only so much yo can fit in a seatback!), it can get a little hard towards the end of the night, especially if you prefer to sleep on your side as I do. But hard or not, it is light years away from my attempts to sleep in Economy Class!
ON BOARD: THE SINGAPORE AIRLINES BOEING 777 BUSINESS CLASS SEATS
Since July 2013, Singapore Airlines has been rolling out their redesigned passenger cabin throughout the fleet, and on our inbound flight we experienced these new cabin products on a Boeing 777.  The first thing that strikes you is the change in colour scheme with a darker feel as seats are upholstered in  aubergine leather, giving the cabin a clubby feel. The seats themselves are still the softest leather and still in a 1-2-1 configuration to give all passengers aisle access but have been redesigned and aren't as wide as in the old cabin (although they are still 71cm wide!).  This move has sacrificed a little seating space to create more useful space for personal storage around the seat.  For example, apart from the smaller storage bins integrated into the seatback in front of you, there is also a substantial sealed bin in the arm rest as well as an open cubby for stowing your laptop.  The leg rest/ottoman has also been redesigned to provide a greater variety of positions for daytime relaxing and there is now a padded seat cushion that runs along the armrest all the way to the footrest, meaning that your leg can be extended and fully supported throughout the flight (heaven for travellers recovering from broken legs like me!).  The TV screens are even bigger in the new cabin – a whopping 46cm (18″) and you still have the same large handset for controlling the TV.  The personal seat light has a number of different settings and brightnesses depending on whether you are reading, eating or watching TV. Ours was a daylight flight so I did not try out the bed, but once again, the seat folds down to create an even larger flat bed –  an impressive 198cm (78"), meaning that even my tall husband would ave a fighting chance of sleeping flat!
ON BOARD:  SNEAK PEEK INTO THE A380 FIRST CLASS SUITES
On our outbound flight, after landing, we had a chance to take a quick tour around the innovative First Class Suites, said to be in a league of their own in terms of privacy, luxury and personal space.  Situated at the very front of the lower deck in 1-2-1 configuration, each seat is enclosed by sliding doors, rather like a private cabin on a sleeper train, but with blinds that can be drawn down for privacy, or left up if you feel like some social interaction. The seat itself is a full metre wide (!) and fully adjustable (obviously!) with plenty of power points and a USB port should you wish to work. The KrisWorld entertainment system is also available here, with an even more souped-up handset, and a massive  58cm (23″) LCD screen.   The ottoman bench can also double up as seating for a guest if you want to dine a deux, gazing into each other's eyes across the table laid with Givenchy napery and crockery. But best of all, after dinner the crew will prepare a stand-alone, full-size bed with a plush mattres for each guest (i.e. not just a folded down seat), equipped with a duvet and cushions by Givenchy.  Best of all – for couples travelling together on the two middle seats, their suites can be converted into an optional double bed. I can think of no better way to fly – but best I start saving:  First Class fares from London to Singapore start from about £6,000.
They always say that it's about the journey and not the destination, and for the most part I would say that modern air travel comprehensively disproves this theory.  It has become a necessary evil which one tries to survive, rather than enjoy, to get to somewhere better.  But my experience flying Business Class on Singapore Airlines has reminded me that there is another way to fly, one which recalls some of the glamour of early long-haul flights, and which delivers you at the end of your journey feeling well-fed and refreshed rather than harrassed and tired. To be sure, it isn't cheap – return fares from London to Singapore start at about £3,000 per person – but if you could upgrade with frequent flyer miles, it is definitely worth doing for such a long flight. The service is defintely a cut above most other airlines, and the food from the Book the Cook service is restaurant quality.  I recently also flew Singapore Airlines Economy Class to Singapore and I am happy to report that their Economy Class also easily surpassses that of other airlines in terms of food and service.  Now if only they would start a service from London to Cape Town… 🙂
To see what my travel companions thought of our flight experience, have a look at their reviews:
SINGAPORE AIRLINES: GOOD TO KNOW
Singapore Airlines officially started its life in May 1966 as Malaysia-Singapore Airlines and went on to enjoy great success in its early years.  In 1968, annual revenue hit S$100 million for the first time; three modern Boeing 707s were added to the fleet; and the airline's iconic sarong kebaya uniform for cabin crew, famously designed by French couturier Pierre Balmain, was introduced. Shortly afterwards, the airline was split up and in 1972, Singapore Airlines first flew under its current name.  Flights to Europe were gradually offered from 1971, and flights from Singapore to London commenced in June of that year. A daily service to and from London was established on 2 April 1973, with the first non-stop Singapore Airlines flight on the route taking place in October 1984 – making 2014 the 30th anniversary of non-stop London-Singapore flights. The airline currently four daily direct flights  from London Heathrow, operated by Airbus 380-800 and Boeing 777-300ER aircraft.   As the first airline in the world to operate the A380, Singapore Airlines inaugurated the aircraft on the Singapore-Sydney service on 25 October 2007 and an A380 service to London commenced in March 2008. I am also thrilled to learn that Singapore Airlines operates one of the youngest fleets of any international airline, with a current average aircraft age of only six years and eight months (many airlines keep planes in service until they are 20 years old).
Singapore Airlines flies four times daily from London Heathrow and daily from Manchester to Singapore. See singaporeair.com for the latest offers and to book. For visitors travelling to destinations beyond Singapore, include a Stopover Holiday when booking your Singapore Airlines flights to save money on accommodation and admission to over 15 popular attractions. Rates start from just £19pppn, offering total savings over £220. You can also keep up to date on the Singapore Airlines Facebook page Facebook.com/SingaporeAir
For more information on Singapore as a stopover or a longer holiday destination, please visit the Singapore Tourism Bureau website at YourSingapore.com or Facebook.com/YourSingapore.
DISCLOSURE:  I enjoyed this flight as a guest of Singapore Airlines but was not required to write a positive review.  I retained full editorial control and all opinions expressed are my own.