Tell somebody that you are off to Jersey for the weekend and they are likely to respond with something along the lines of: "Isn't America rather a long way to go for a weekend?", assuming that you meant the state of New Jersey in the USA. And how ironic that people would sooner asusme that you are off to another continent for the weekend than consider the possibility that you may be off to the Channel Islands for your break. I am probably unusual in that I have visited the island on numerous occasions since a good friend moved there in 2002, but the vast majority of my London friends have never set foot there.  This has always baffled me, considering that the criticism often levelled by Brits at foreign destiations is that "they can't make proper tea there".  But if you holiday in Jersey, not only do all the locals speak English and brew "proper" tea, but you also have access to French culture and cuisine, truly glorious sandy beaches, an interesting history, outstanding restaurants, and an abundance of walking and cycling opportunities – not to mention tax-free shopping! What's not to like, really?
Jersey is an island of roughly 118 square kilometres (9 by 5 miles) and it is situated 160 km south of the south coast of England, but only 22km from the French coast of Normandy, making it the most southerly place in the British Isles. Officially called the Bailiwick of Jersey, it has been under the rule of the Normans and the Vikings, and was occupied by Germany for 5 years during World War II.  There are still strong cultural links to France, evidenced in the francophone place and street names, and the local dialect, Jèrriais. Today it is officially a British Crown dependency rather than a part of the UK, giving the island constitutional rights of self-government and judicial independence (also exemption from charging VAT). They also have their own Jersey currency which is of equal value to British currency, but British pounds are accepted everywhere. It's home to nearly 100,000  people and there is really only one town, St Helier, with the rest of the island made up of a series of villages interspersed with agricultural land.  So why should you visit?  Here are eight reasons.
1.  To discover Jersey's interesting history
Jersey has been inhabited from the dawn of mankind, with both Paleolithic and Neolithic sites found on the island.  In June 2012, two metal detector enthusiasts uncovered in Grouville what could be Europe's largest hoard of Iron Age coins (currently on display at the Jersey Museum till 30 December 2014).  The island has variously been under the protection of the Franks; invaded by the Vikings; and annexed to Normandy before becoming self-governing British Crown territory.
Mont Orgueil overlooks the harbour of Gorey. There have been fortifications on this site since prehistoric times, but the construction of the castle was only undertaken following the division of the Duchy of Normandy in 1204.  In the early 17th century, its defensive role was taken over by the new Elizabeth castle off Saint Helier, but Mont Orgueil Castle continued to be used as the island's only prison until the end of the 17th century. Mont Orgueil has been managed as a museum site since 1929. and after extensive restoration which opened up previously inaccessible areas of the castle to the public, it was reopened in April l 2006.  During your visit you climb continuously upward, through the outer courtyard (where a wedding reception was in progress!), past art exhibits (we saw Chris Levine's amazing 3D portraits of the Queen), through the nooks and crannies of the castle into the inner keep, all the way to the top of the towers.  It's worth the climb just to see the spectacular view over Gorey harbour! We liked the fact that, unlike many old castles, so much is accessible and there are very few areas where you cannot explore, largely unsupervised.
Mont Orgueil Castle
Gorey
St Martin
JE3 6ET
JERSEY
Tel. +44 (0)1534 853 292
Adult entry –  £11.50
During World War II, Hitler considered the Channel Islands (including Jersey) to be of strategic importance as they sat only  20 miles off the French coast. Winston Churchill, however, thought they held no strategic importance for Britain and decided to de-militarise them and leave them undefended. About a third of the islands' population (30,000 people) were evacuated but on 28 June 28 1940, the German Luftwaffe bombed Jersey and neighbouring Guernsey, unaware that the islands were undefended. 44 civilians were killed and two days later the German flag was raised over the islands. The Germans occupied the islands until 9 May 1945 and although life was for the most part allowed to continue as normal, the islanders endured many hardships including a ban on radios bringing news from the mainland, fuel shortages and acute food shortages.  Islanders were forced to forage, eat horses, seagulls, seaweed and even their pets to survive. Towards the end of the war, after a Cabinet meeting on 27 September 1944, Winston Churchill wrote about Jersey: ""Let 'em starve.  No fighting. They can rot at their leisure."  Presumably he meant the Germans, but Germans and islanders alike starved until a Red Cross ship carrying food parcels arrived on 30 December 1944.  The Channel Islands were one of the last places in Europe to be liberated.
While the Germans occupied the islands, they used slave labour to build many fortifications and a number of tunnel complexes designed to serve as command posts, shelters and stores that would withstand an Allied attack that never came.  The tunnels were built by blasting through shale rock and were then further dug out by hand – a dangerous business that cost many workers their lives – before being lined with concrete and brick.  In 2005, a half-mile stretch of tunnels, known as HO8 for Höhlgangsanlage 8 ("shelter cave 8") – was restored and opened to the public as a museum.  Although dubbed the "underground hospital" by the islanders, the tunnels were actually mostly offices and stores, with a treatment centre only added at the very end of the war.  Visitors are issued with an "identity card" instead of a ticket and then begin a journey from the start of Jersey's occupation to its liberation. There are photographs taken at the time of occupation and stories about the ordinary people depicted, sometimes in the form of sound recordings told by those who lived through it.  There are also displays that talk about rationing and food shortages, and how families coped with this.  There is also a gallery dedicated to the fine line between co-operation and collaboration, and the witch-hunt after the war to determine who the islander collaborators might have been.   The tunnels provide a fascinating, if heart-breaking, account of a World War II drama that I was totally unaware of, as well as a key to understanding many of the islanders' attitudes even today,  and are well worth a visit.
Jersey War Tunnels
Les Charrieres Malorey
St Lawrence
JE3 1FU
Jersey
Tel: +44 (0) 1534 860808
Email: [email protected]
Adult entry – £11.50
The War Tunnels close each year from 1 November – 1 March
 Image © Danny Evans, courtesy of Jersey Tourism
 Image © Damon Eastwood, courtesy of Jersey Tourism
2.  To enjoy excellent local Jersey produce and markets
If there is one thing in Jersey that's not hard to find, it's excellent food, and a great place to start is with the two foodstuffs to which the island has given its name:  Jersey Royal potatoes and Jersey dairy!    Jersey Royal potatoes are a local variety of new potato and Jersey is famous for its early crop from steeply sloping south-facing fields.  Originally, the numerous potato fields in Jersey were fertilised with vraic (iodine-rich seaweed) which was said to give the potatoes a unique taste, although today not many potatoes are fertilised like this.  Still, the small, nutty potatoes are fantastic boiled and served simply with salted butter.  And in 2013 the first commercial vodkas made from Jersey Royal potatoes were marketed! Jersey cattle are a small breed of dairy cattle, originally bred in Jersey.  They are known for their slightly smaller size, their gentle disposition and above all the high butterfat content of their milk which makes dairy products of outstanding quality.  One of the most popular products in local shops is Jersey fudge, which is a delicious way to sample this creamy dairy (or try a cream tea with Jersey clotted cream!).
Apples were an important historical crop in Jersey crop and much of the crop was used to make cider for local consumption and export.  After the decline and near-disappearance of the apple and cider industry in the late 20th century, Jersey heritage apple varieties are once again being cultivated and apple production is being increased and promoted. Besides apple cider, Jersey apple brandy is now also produced produced.  At Hamptonne Country Life Museum, you can visit a restored Jersey farm that dates back to the 15th century and learn more about the project to re-cultivate heritage apple varieties.  You can also see the see the  Chausey granite apple crushing trough and Hamptonne's original cider press, as well as learn about local specialities such as Jersey cabbage loaf and Jersey black butter (a sweet, dark, spicy spread prepared from apples, cider and spices).  Black butter uis madeby boiling cider for up to two days and when the cider is reduced by half, apples, sugar, lemon, liquorice and spices are added.  The mixture is continuously stirred with a wooden paddle until a jammy consistency is reached.  Making black butter is a very popular community event at harvest time accompanied by traditional singing, dancing, storytelling and socialising into the early hours of the morning. During October, Hamptonne hosts a cider festival and elsewhere on the island there are weekends of black butter making where the public have a chance to peel the apples and stir the pot while learning about the island traditions surrounding black butter.
Hamptonne Country Life Museum
La Rue de la Patente,
St Lawrence
JE3 1HS
JERSEY
Tel:  +44 0 1534 863 955
Adult entry – £7.90 
Seafood has traditionally been very important to the cuisine of Jersey and there is an abundance of it available in the island's restaurants: think mussels, oysters, scallops, lobster,  crabs and ormer (a type of abalone), in addition to locally-caught fish including bass, conger, mullet, break, mackerel and pollack.  And there is no better place to buy fish (or, indeed, any fresh island produce) than at the Central and Beresford markets in St Helier.   The Central Market is housed in a wonderful Victorian cast iron and glass structure and was originally opened on 9th September 1882.  It is still serving the people of Jersey today and houses about 35 stalls selling fresh fruit and vegetables, meat, flowers, cheeses, olives and much more.  In the centre is a beautifully restored Victorian fountain which makes an unusual and photogenic focal point.  But if it is fish that you're after, cross the road to the more modern Beresford market which was built in 1841 but most recently restored and made smaller in 1972.  Despite its smaller size and less picturesque appearance, it is still a treasure trove of gorgeous local seafood, from plump scallops to glistening live lobsters, to shiny silver mackerel – and even local samphire. The fishmongers are also friendly and very knowledgeable, so do ask them for advice on what to buy and how to cook it.
The Central Market in Halkett Place, St Helier and the Beresford Market on Beresford Street, St Helier, are open Monday to Saturday 07:30 – 17:30 (but close at 14:00 on Thursdays). Tel. 44 (0)1534 448180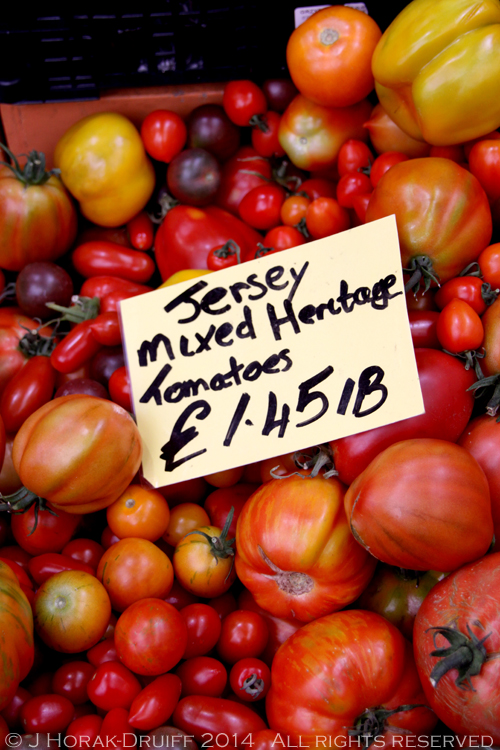 3.  To relax on some of Europe's most gorgeous beaches
Being an island, Jersey has more kilometres of beach per person than most other places – and what fabulous beaches they are. Whatever type of beach you like, Jersey can deliver.  In the west there are the 8 kilometres of white sand that make up St Ouen's Bay, probably my favourite beach in Jersey.  It's also the most popular, but never seems full because it is so huge and because there is ample parking all along its length. It's also the beach if surfing is your thing. If you don't want to stray too far from St Helier, there is St Aubin's Bay, a stretch of sand from St Helier to St Aubin's that is within walking distance of the centre of town (or a little further along there is  beautiful St Brelade's Bay, a smaller beach but lined with restaurants).  And if it is small hidden coves that you are after, Jersey can provide that too.  On the north coast, try Bouley Bay, Bonne Nuit bay or Archirondel (which is a pebble  beach at hight tide).  But my favourite has to be Beau Port Bay, a tiny sandy cove with aquamarine water, nestled just west of St Brelade's Bay and usually not full because of the long walk required to access it (uphill on the way back!).  Because of the abundance of beaches, you can always find somewhere to go, whatever the wind conditions, and however full the island is. Be sure also to check out the island's  massive tidal fluctuations which leave fishing boats literally beached at low tide!
Image © Danny Evans, courtesy of Jersey Tourism
4. To dine in world-class restaurants
In terms of eating out, Jersey truly has something for everybody.  There are casual beach huts serving toasted sandwiches, light meals and cream teas (El Tico housed in a an art-deco building at St Ouen beach, or the Archirondel beach café); there are beautiful restaurants with sea views and excellent local seafood (Suma's in Gorey or The Oyster Box on St Brelade's beach); there is the Pizza express with the best view in the British Isles, your feet practically on the sand; and then there are fine dining options galore, including the classical elegance of Longueville Manor as four restaurants with a Michelin star each: Ormer, Ocean at The Atlantic, Bohemia and Tassili.  Not bad going for a small island!   October also sees the annual  Tennerfest during which restaurants offer special set menus for £10, as well as £12.50, £15.00 and £17.50 options.
5.  To enjoy one of Europe's best-kept cycling secrets
For road cyclists, Jersey is paradise and most certainly is one of Europe's best-kept secrets.  Not only is it relatively flat, but there are 350  miles of well-maintained roads and lanes criss-crossing the island, making it easy to explore on two wheels. There are a number of routes that make up the island-wide cycle network and all these are well sign-posted and easy to follow – just look for the distinctive road signs.  In 1994, the island designated some roads as Green Lanes, a number of particularly attractive (or narrow!) roads where pedestrians, cyclists and horse-riders have priority over cars, and the speed limit for cars is 15 miles per hour.  These one-car-wide lanes, lined with overhanging trees and hedgerows are the best way to see the island, taking in coastal views as well as taking you through the agricultural heart of the island where you can see Jersey cows and fields full of Jersey produce alongside the elegant traditional stone houses.  Cycle hire is available in St Helier and St Aubin and in June, the island hosts the Jersey Festival of Cycling.
6.  Taste wine at the most southerly vineyard in the British Isles
Because of its southerly position, Jersey is warmed by the Gulfstream and is generally a few degrees warmer than the UK mainland.  This, and its proximity to the wine regions of Northern France, makes it the perfect place to make wine. La Mare Estate, the island's only winery, is situated on a 25 acre estate comprising vineyards, orchards and grounds. The elegant granite farmhouse was built in 1797, but it was only in 1972 that owners Robert and Ann Blayney decided to plant Jersey's first commercial vineyard and develop the estate as a tourist destination.  In 1976 the estate (then only six acres) opened to visitors and not long after that, in response to a demand for genuine Jersey goods, they introduced a range of preserves and mustards was made using vintage recipes. Further expansion included the recruitment of a chocolatier and the addition of a distillery to make aple brandy.  2013 saw the launch of the first vodka made from Jersey potatoes.
The estate's range of wines (red, white and rosé still wines; white and rosé sparkiling wine; and white and rosé methode traditionelle premium sparkling wine, made in the same way as Champagne), ciders and spirits may be tasted as part of a guided group tour of the estate – these take place hourly during the day and do not have to be pre-booked – or at the estate's The Vineyard restaurant. If the weather is sunny,   sit outside at tables almost among the vines like we did and choose from dishes such as mussels cooked in La Mare cider, Jersey chancre crab linguini, an excellent local seafood platter, or maybe just a Jersey cream tea.  And don't forget to visit the shop before you go, a veritable treasure trove that stocks the estate's wine, cider, brandy, preserves, biscuits, mustards, chocolates and some of the gorgeous locally-produced Jersey Pottery items.
La Mare Wine Estate
La Rue de la Hougue Mauger
St Mary
JE3 3BA
JERSEY
Tel: +44 (0)1534 481178
E-mail: [email protected]
Opening Times: 10am – 5pm 7 days a week Easter to end of October (Nov-Dec, Mon-Fri, 11am – 3pm, shop only). Private tours available to book from Easter to end October. 
Adult price – £9.75
7.  To enjoy spectacular coastal walks
Being an island, Jersey also has more than its fair share of coastline – and what a lovely and varied coastline it is! To the west and south, the land (generally!) slopes more gently into the sea, leaving you with vast expanses of golden sand at low tide, and the wild and beautiful dunes of St Ouen's bay.  To the north, the landscape tends more towards steep coastal cliffs and rugged, rocky coves – a landscape that has its own unique beauty.  There is an almost continual footpath along the north coast which gives access to some of the most spectacular scenery in the British Isles. Interestingly, inland footpaths are not so common in Jersey as there are very few rights of way that cross private property, but the green lanes can also provide a wonderful walking route.  The best thing about the many walking routes is that there is something for everybody's level of fitness, from steep cliff paths, to relatively gentle and flat walks. 
In June, Jersey plays host to the Collas Crill round the island walk – a charity event co-organised by Rotary de la Manche.  The walk goes anti-clockwise around the island and has 13 checkpoints – and it can take anything from 12 to 21 hours to complete.  For those looking for less of a challenge and more of a stroll,   Spring and Autumn Walking Weeks are held in May and September consisting of a free programme of countryside, coastal and history walks with experienced island guides.
8. To visit the Gerald Durrell Wildlife Park (formerly the Jersey Zoo)
Most children who grew up in the 1980s like I did went through a phase of reading every Gerald Durrell book that they could lay their hands on. There was something about his descriptions of his family's somewhat bohemian existence on Corfu that sparked young imaginations and made us dream of foreign climates and foreign beasts. It was this English naturalist and author's lifelong love of animals that led him to establish a wildlife park parish of Trinity in 1958.  Having realised that species everywhere were in decline (a startling revelation at the time), Durrell had a vision of a zoo being a sanctuary and "reservoir for endangered species", rather than an amusement park for humans.
The idea was controversial and he struggled for 2 years to find a location in England, before discovering and procuring Les Augres Manor in Jersey. Durrell worked tirelessly and by 1963  he had personally paid off all the zoo's debts and established the Jersey Wildlife Preservation Trust.  Set in 32 acres of landscaped parkland and water gardens, the park is today operated by the Durrell Wildlife Conservation Trust and still focuses predominantly on rare and endangered species (as you can guess by the dodo statues on the main gateposts!).  The zoo hosted the first international conference on the breeding of endangered species in the 1970s and continues its conservation focus today.  You can easily spend a day discovering birds, reptiles, and mammals – with the crowning glory being the large and well-equipped primate enclosures which house gorillas and orang utans. My personal favourites though were the otters, the lemurs and the mongoose… erm…. mongeese….. erm… mongooses! It's a great day out for adults and children alike, and a wonderful legacy by which to remember Gerald Durrell.
Gerald Durrell Wildlife Park
La Profonde Rue
Jersey
Tel: +44 (0)1534 860000
Opening hours: 09h30-17h00 every day except Christmas
Adult entry: £14
 Image © and courtesy of John Cosnett
Image © and courtesy of John Cosnett
GOOD TO KNOW:
Located 100 miles south of mainland Britain, Jersey is the most southerly of the British Isles, only 14 miles from the French coast.  just 14 miles from its coast. Despite being only nine miles by five miles, Jersey is home to a host of unexpected cultural events and breathtaking physical features.   Its myriad attractions and natural beauty make it an ideal destination for short breaks, romantic weekends, active experiences, foodie getaways and family summer holidays.
For further information on Jersey's activities and itinerary suggestions or for special offers, including hotel late deals and discounts please visit www.jersey.com or call +44 (0) 1534 44 88 00.
GETTING THERE:
Jersey is well-connected to Europe and the UK via numerous daily flights as well as ferries.  I flew to Jersey on Blue Islands, who fly to Jersey from 3 UK destinations: Bristol (from £68); London City (from £49); and Southampton (from £25).  Blue Islands provide a completely honest and transparent no hidden charges policy – the price first quoted at bookings is always the final price paid. There are no additional charges when booking with Blue Islands for checked baggage, paying by credit/debit card; ticket changes; seat selection; executive lounge access; or in-flight refreshments. For more details, call +44 (0)8456 20 21 22
STAYING THERE:
I stayed at the very lovely Longueville Manor Hotel in St Saviour where classic rooms start from £195-£375 per night, depending on the season.
DISCLOSURE:  I visited Jersey as a guest of Jersey Tourism but received no further remuneration to write this post.  I retained full editorial control and all opinions expressed are my own.