I've been writing this blog  and reviewing restaurants for quite some time now.  Touch wood, it has been quite an uneventful period in some respects – only one camera memory card has corrupted (most pics were retrievable); no camera or lenses have been dropped; no mobile phones have been lost or stolen; and no press trip flights missed.  About the worst was when I went to review a restaurant and managed to leave my entire camera bag at home.  Did I realise this at lunchtime so that I could conceivably make it back home to fetch it?   Nope – I realised it about ten minutes before leaving for the restaurant.  Ah well, I thought, at least I'll have my phone.  But when I arrived I realised that this as one of the more atmospheric (read dark) restaurants I've ever reviewed. And much as I love my HTC Desire S, low light is simply not something that its camera copes with very well; and as an emergency stand-in for my Canon DSLR it leaves a lot to be desired. 
So when the lovely folks at Nokia offered me a Nokia Lumia 920 Windows phone to put through its paces in a restaurant, extolling its virtues in low light, I leapt at the chance.    The evening started off at the Soho Hotel where the helpful and enthusiastic chaps from Nokia were on hand to set up phones for us and talk us through the basics. We also had a very impressive presentation showcasing a few of the phone's funkier features (see more on this at the end of the post), before being let loose to play on our new tecchy toys.  After a short presentation on the basics of food photography using the phone, we made our way to dinner – because what better way is there to test-drive a camera's restaurant capabilities than in a dimly-lit restaurant?  From the Soho Hotel it was a short walk to Jason Atherton's newest baby, the Social Eating House, billed as a more affordable way to enjoy Atherton's celebrated cooking.  I have dined at the Pollen Street Social Club and loved it so I was keen to see what the new venture (which was still in soft opening when we went) would be like.  Once through the heavy curtain around the entrance, there is the bar with obligatory bare brickwork and low pendant lights over the bar, and the restaurant beyond that.  More importantly, the light was suitably dim (and further complicated by a blue neon sign near where I was sitting!) – so it was going to be interesting to see how the Nokia coped.  But first, the food. To illustrate the difference between the capabilities of the Nokia, my HTC and my Canon EOS 50D, I have included shots of some dishes taken with two or three of the different cameras, just to give you an idea of the differences.  All shots on the Canon were taken with a 50mm f1.8 lens at ISO 3200; and all shots from all 3 devices were tweaked in Photoshop to correct the freaky effects of the blue neon light and to brighten them up – but I think the differences remain obvious.
We started off with shared nibbles in jars (£4.50 each):  Cornish mackerel tartare with horseradish cream was hidden under a tangle of frisée lettuce but was buttery and flavoursime. Spiced aubergine, tomato, parsley was full of umami flavour without being too heavy; and salt cod brandade, potato chips, celery salt, vinegar and vividly green parsley oil was my favorite of the three, both in terms of robust flavours and textural contrasts. My only criticisms would be that there is not a lot in each jar for your £4.50; and that I am not a huge fan of sharing little jars of things – big platters are one thing, but jars just complicate matters.  I want my own!
For my starter, I chose smoked Black Angus beef tartare, radishes, horseradish, mustard leaf (£9.50).  This was outstanding – the beef had a real deep, smoky flavour which was nicely spiked by the horseradish and mustard leaves; and I loved the unusually delicate plating (although it was a nightmare to photograph!).  Next to me, Neil had the wild mushrooms on toast, from a bag, with cep puree (£9.50).  This little piece of food theatre arrived in a plastic bag that was cut open with a flourish at the table by the waiter, before the mushrooms were decanted onto the cep puree and toast – but for all that it, remained just pleasant and pretty radically expensive mushrooms on toast.
For my main course, I chose the roasted halibut, with new potatoes, broccoli, gremolata,  roasted shellfish jus (£23.50).  This also came with a bit of theatre as it arrived undressed (so to speak!) and the roasted shellfish jus was poured over at the table.  The fish was firm and juicy, the vegetables perfectly al dente, and both the gremolata and the shellfish jus were well-flavoured… but £23.50 for a piece of halibut?  Really? Across the table from me, Luiz had the steak with Bearnaise sauce and frites, which he pronounced to be excellent; while Neil had the plaice with brown shrimps and samphire (£16.50).
We were offered a white and a red wine throughout the meal, both chosen by the sommelier.  Both were unusal and pleasantly surprising.  The white was a 2011 Cantino Adriano Muller Thürgau,  from the Alto Adigo Sudtirol region of Italy, packed with fruity flavours of  peach and melon flavours, the antithesis of the rather austere image that this grape variety still has in the mind of the British public. The red was a 2012 Spätburgunder Reichsrat von Buhl (the Austrian name for Pinot Noir), full of ripe red berry flavours, ripe supple tannins, and a long fruity finish.  It also had a surprisingly good ruby colour for a cool climate Pinot – eye-opening for people who still believe Austria cannot make good red wines. For dessert, I chose the milk chocolate mousse with hazelnut praline and a chocolate éclair filled with salted caramel ice-cream (£6.50).  This was prettily presented, and tasty ( I loved the range of textures!), but possibly the mousse should have gone into the éclair rather than the ice-cream, which melted rapidly and left the dark chocolate éclair in a bit of a soggy mess. Still, it was delicious.  I was also intrigued by a neighbour's choice – the Szechuan pepper and sea-salt baked pineapple carpaccio with lime and coconut ice-cream (£6.50).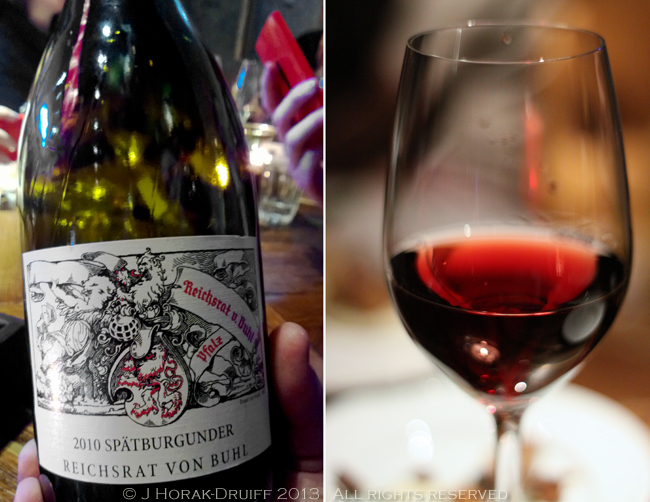 THOUGHTS ON THE NOKIA LUMIA 920
The first thing you will notice about the phone is that it is solidly built and big.  Very big – 13cm long and 7cm wide, weighing 185g.  The up-side of this is that you get a large and very crisp 9.7×5.8cm LCD touch screen, but I found the handset little too big to handle comfortably. The Nokia Lumia runs on the Windows 8 operating system, which will be largely familiar territory to PC users, but a bit of a readjustment for iPhone of Android users. I liked the highly-customisable tile-based interface and was impressed with the features that were demonstrated to us such as the built-in sat nav capability, including voice-guided navigation,  which can be also used without internet connection using pre-installed free downloadable maps – great for travelling abroad without incurring massive data roaming charges. The phone features built-in Nokia-exclusive apps, like Nokia City Lens (augmented reality software that gives dynamic information about users' surroundings using the camera – you point the camera down a street and for example the names of all the restaurants together with their ratings and distance from you will be highlighted on the screen in real-time. I was also particularly taken by the Nokia Music app, which streams thousands of songs for free and allows you to enter the names of 3 bands you like before generating you a playlist of 20 songs based on those preferences – a great way to discover new music.  The full specs are available from the Nokia website.
But the main focus for me was definitely the camera – an 8.7MP Nokia PureView sensor with a Carl Zeiss Tessar lens.  The camera also features built-in image stabilisation and a focus-assist light – together with a maximum aperture of f2.0, this means you are well set up  for taking shots in dimly-lit restaurants.  I also tested its auto white balance – none of the shots above used any manual white balance settings, and it coped remarkably well with the tricky conditions.  Images were astonishingly bright and showed very little camera shake; and using the "close-up" preset scene, which replicates the macro function on a compact digital camera, I was able to take some pretty decent  macro shots (see below).  I haven't posted many of the shots taken on the HTC because on the whole they were pretty poor compared to the Nokia – but even more interesting was comparing it to the shots I took with my Canon DSLR.  Overall, it compared very favourably, and certainly the Nokia did a better job than most compact digital cameras would do under those conditions.  Compared to the Canon, the colour rendition tended to err on the side of blue, but not unacceptably so.  Where the Canon (quite rightly) won, though, was in terms of shallow depth of field, and good bokeh.  But all in all, I was hugely impressed with the Nokia and it would be a great phone for those looking to upgrade their camera capabilities without splashing out on an SLR digital camera.
Here is my brief summary of pros and cons of the Nokia Lumia 920:
PROs
The solid build quality and feel – nothing plasticky or cheap about this phone.  I love the texture of the case, the scratch-proof screen, and it also comes in cool colours!
The highly customisable tile-based interface – you can enlarge the tiles for apps you use often and shrink the ones for those you don't, plus choose a colour scheme.
The camera is simply astonishingly good in low light, especially the auto white balance and image stabilisation.
Once you get your head around the phone version of Windows, it's great to be able to work in Microsoft Office and have seamless integration with your PC – no converting of spreadsheets and documents  into different formats to be able to access them on your phone.
The cool apps like City Lens, Nokia Maps, and Smart Shoot which captures a series of images in fast succession and merges the best ones in post-processing to ensure everybody's eyes are open in one shot 😉
Nokia Lumia owners get access to SkyDrive – 7 GB of free cloud storage for your files so that you can access them from anywhere in the world.
CONs
For me, the size – it's just that teensy bit too big to fit in my hands and I fear constantly that I will drop it – it's great for Nick though and he loves it.
The camera placement in the centre of the back of the handset is annoying – it's where my hand usually is and I kept covering the lens with my fingers accidentally.
I found the buttons to be non-intuitive and was always turning the screen off instead of taking a photo.
The Windows operating system takes some getting used to if you are coming from Android, as I am (I presume the same goes for Apple users).
Not all social media integration works so well, and there is no Instagram  app for Windows yet.
Have I ditched my HTC in favour of the Nokia?  No – to be honest, I can operate my HTC with my eyes closed and I simply did not feel like getting to grips with a new operating system; plus the size is more than I really want.  But Nick has taken to it like a duck to water, and when my phone comes up for replacement, I will definitely take a serious look at Nokia as a possible replacement, even just to have access to that awe-inspiring camera…
And as for my thoughts on The Social Eating House, I enjoyed our evening there and enjoyed all my food, although nothing was a show-stopping stand-out.  I thought the sommelier had made two great wine choices and I'd love to return and have him match each course of a meal with an appropriate glass of wine.  My main gripe would be with the price – at an estimated £60 per head for 3 courses and a bottle of wine, I'm not sure I would really classify that as affordable? But if you are after the Jason Atherton experience and do not want to pay Pollen Street Social prices, this will be right up your street.
For other perspectives on our evening and the phone, have a look at
Sarah's review
Helen's review
Liked: the smoky beef tartare; the excellent and unusual wine matches
Disliked: the steep prices – particularly the mushroom starter and the halibut main
In a nutshell: An attractive location in the heart of SoHo, and a chance to enjoy Jason Atherton's cooking for less than the price of Pollen Street Social
Wow factor out of 10: 6.5
DISCLOSURE:  I received a complimentary Nokia Lumia 920 handset for review purposes but was in no way obliged to write about it, and all opinions expressed are my own. I enjoyed this meal as a guest of  Nokia UK but received no other remuneration to write this post and all opinions are my own. 
Social Eating House 
58 Poland Street
London
W1F 7 NR
Tel. 020 7993 3251
E-mail: [email protected]