Bless the Brits.  Ever since Thomas Cook chartered a train in 1841 to take a bunch of temperance campaigners from  Leicester to a rally in Loughborough twenty miles away, thus inadvertently founding the package tour concept, the British have been eagerly travelling the world in the tender care of companies such as Thomson Holidays, First Choice Holidays and (you guessed it) Thomas Cook Holidays.  The post World War II generation suddenly had unprecedented and cheap access to foreign destinations all over Europe and eventually far further afield, making them far more cosmopolitan in tastes and outlook than their parents ever were, and the trend has continued ever since.  Well, the trend for travel has continued – but has this really created a nation of suave culinary sophisticates, as comfortable ordering bacalhao or bruschetta as they are ordering baked beans? Not quite, evidently.  Late last year, Glorious! Foods, maker of a range of soups and dips, did an informal survey to try and pinpoint which foods Brits are nervous about ordering on menus, and the results were surprising.  We've all ordered food at some stage by pointing at a menu item rather than attempting to pronounce it (think the x-heavy Catalan menus of Barcelona), but it seems that foods that most of us would now regard as commonplace still afflict the average Brit diner with PPA (pronounciation performance anxiety – my term, not the survey's!).  In fact, the list of feared foods and their tempting but incorrect pronounciations, is surprisingly heavily populated by European foods including:
Prosciutto  (WRONG = pros-koo-toe;   RIGHT =  pro-shoot-or)
Moules mariniere (WRONG = moo-les-marry-nary   RIGHT = mools mar-in-year)
Penne arrabbiata (WRONG = penny-arry-batty   RIGHT = pen-neh arr-ah-bee-ah-tah)
Gnocchi (WRONG = ger-nock-ee   RIGHT = knock-ee)
Chorizo (WRONG chor-it-so  RIGHT  = chore-ease-o)
Mascarpone   (WRONG = mask-a-pone   RIGHT mas-car-poh-neh)
  I was actually surprised at the lack of Mexican food on the list, seeing as it can be tricky to pronounce and is now fairly ubiquitous.  I remember well when Spur Steak Ranches in South Africa rolled out their Tex-Mex menu and ater a month or two of people hesitantly ordering "kwes-a-dill-as" and "jal-a-pee-nose" , they came to our rescue with handy pronounciation guides.  Oh happy day!  Overnight, we all went from ordering fah-gee-tas  to fah-heat-us – problem solved!  But the uncertainty about pronounciation, it seems, nothing compared to the difficulty in distinguishing between the various ways employed by the Mexicans (and their US neighbours)  to serve a tortilla and some kind of filling. Far more embarrassing than mispronouncing your dish, would be to call your enchilada a taco! So here is a handy guide to the many wraps of  Tex Mex cuisine:
Tacos are small soft corn or flour tortillas that are  held in the hand and filled with chicken, meat, seafood, salsas – whatever you like! Classic street food. (Crispy taco shells, I am told, are an American invention.)
Burritos, also an American invention, consist of soft flour tortillas rolled around all sorts of fillings (often including beans) and tucked in at both ends to make a neat parcel.
Chimichangas are deep-fried burritos.
Enchiladas are soft corn tortillas, filled with meat or cheese and then baked covered in a chilli sauce.
Quesadillas are soft tortillas covered in cheese (and possibly other ingredients) , then folded in half and toasted.
But my runaway favourite dish remains fajitas – not least because they do not come to the table fully formed but arrive in pieces, to be assembled by each individual diner. Fajitas consist of strips of marinated steak or chicken; fried onions and peppers; possibly grated cheese and shredded lettuce; and condiments such as sour cream, guacamole and salsa – all wrapped in a soft flour tortilla.  heavenly. I have made them ever since I was a student, and I am still doing so, with gusto.  Usually, I simply season the chicken and sauté – but recently I thought I woudl jazz up my fajitas a little by marinating the meat overnight.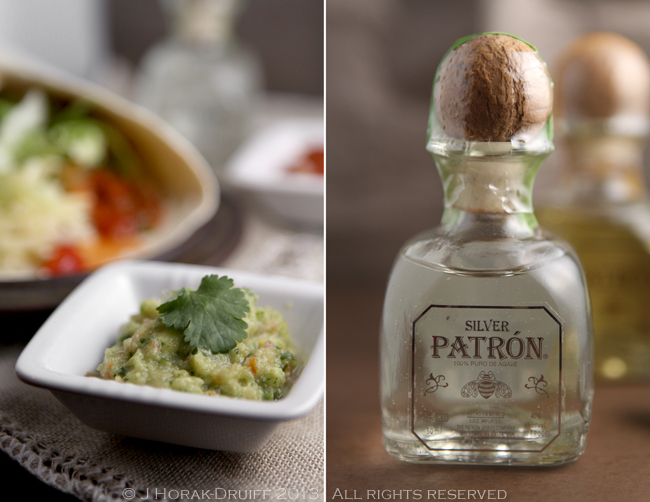 The impetus for this innovation arrived at my desk in the shape of a bag of adorable minature bottles of Patron tequila late last year.  As is the case with many of us (!), my first tequila experiences left something to be desired – think tequila slammers with cheap lemonade and cheaper tequila. Even when I grduated to the more sophisticated lemon and salt method of getting the stuff down I did not see the point.  It was only when I visited Mexico in 2005 that I finally inderstood that all the tequila I had tried up to that point was just bad tequila, and that there was Another Way. Failing a trip to Mexico, a bottle of Patron tequila is a good introduction to the way tequila should taste.  Made in Mexico from the heart of the agave cactus, it is a tequila made to be sipped, withouth the paint-stripping characteristics that have given tequila a bad name. I tried three variants: Patron Silver (a light, fresh tequila with the fresh green flavours of the agave plant and lemony notes);  Patron Anejo (a blend of tequilas, all aged in small oak barrels for at least 12 months, with a rich oaky flavour as well as smoky vanilla, caramel and sultana notes – definitely to  be sipped and savoured!); and Patron XO Cafe (a blend of patron Silver tequila and fine coffee essence – less saccharin than most coffee liqueurs and packed with dark chocolate and espresso flavours).  Quite apart from the contents, I fell head over heels in love with the little bottles – minatures of the standard bottles which are individually humbered and handblown  by a glassmaker using reycled glass. So how did I incorporate tequila into my usual fajita recipe? By ramping up the flavour of the chicken with an overnight marinade of tequila, lime and chipotle paste. It adds almost no time onto your prep, but it infuses the chicken with a delightfully smoky, citrussy flavour – perfect! I served mine on a snowy Sunday afternoon with homemade tomato salsa and guacamole, followed by an extra shot of Patron tequila (which always relaxes the tongue and helps with any pronounciation issues you may be having!).
DISCLOSURE:  I received the Patron tequila miniatures as free samples and was not required to post about them and received no other remuneration for this post.  All opinions expressed are my own.
Other blogs who have been making it Mexican:
Chipotle, lime & chilli chicken fajitas
This old favourite Tex-Mex dish is given an extra flavour boost my marinating the chicken overnight in a tequila, lime and chipotle marinade.
Author:
Jeanne Horak-Druiff
Ingredients
4 chicken breasts, boneless and skinless
Juice of half a lime
1 generous Tbsp chipotle paste
1 Tbsp olive oil
1 Tbsp good quality tequila
two onions, sliced into thin wedges
four bell peppers - a mixture of red and green, sliced into thin strips
2 cloves of garlic, crushed
salt and black pepper (or fajita seasoning mix, if you can find it)
olive oil for frying
TO SERVE
4 large flour tortillas
2 cups of shredded lettuce
150g full-flavoured cheese, grated
tomato salsa
guacamole
sour cream
Instructions
Slice the chicken into thin strips, place in a non-reactive glass or metal bowl.
Mix the chipotle paste, tequila, lime juice and tequila well, pour over the chicken and mix well to ensure all the chicken strips are coated. Cover and refrigerate overnight (or as long as you can).
Heat a little olive oil in a large pan and add the onion. Saute over medium heat until the onions start to soften slightly, then add the peppers and garlic and continue to fry until they are soft enough for your taste. Remove from the pan with a slotted spoon, season and keep warm.
To the same pan, add the marinated chicken strips, turn up the heat, and stir continuously to stop them sticking or burning. Remove from the heat when they are just done (no longer pink when you cut them in half), season to taste and add them to the peppers and onions.
Steam or microwave the tortillas to heat them, then serve the fajitas by laying all the components on the table - chicken and peppers; tortillas; lettuce; cheese; salsa; guacamole; and sour cream - and let guests assemble their own fajitas.